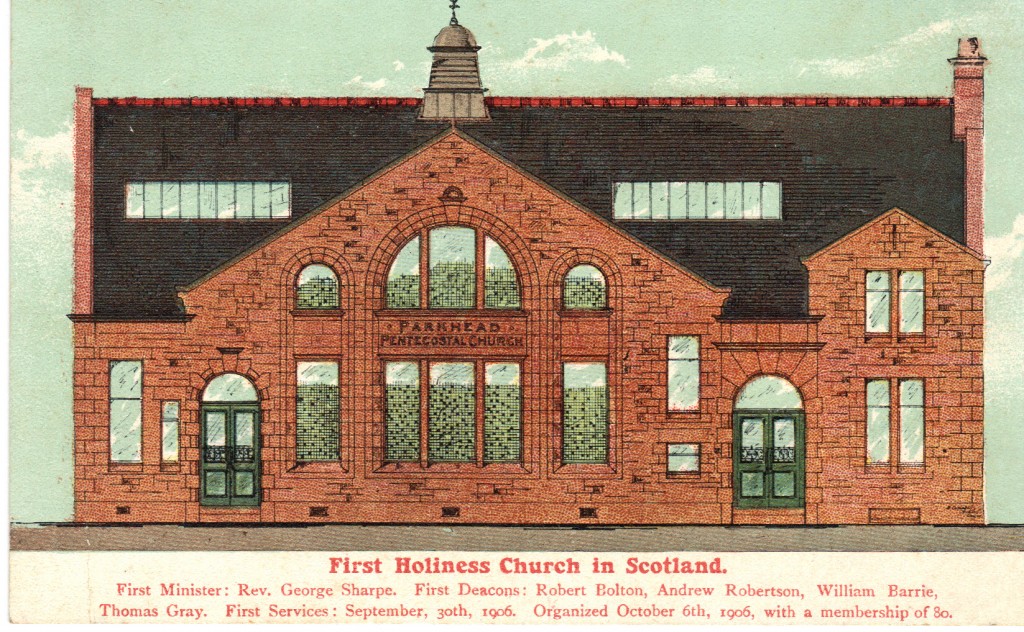 George Sharpe was forty when he arrived in Parkhead in 1905. Rev Sharpe was born on 17th April 1865 in Dalziel near Motherwell and became a clerk in Colville's steel works .
In 1886 George Sharpe moved to New York State to work for the Rose family who had emigrated to New York from Motherwell in 1884 and owned steel works there. While in New York George became a member of the Methodist Church and later received an offer from his minister to pay for his tuition through college to enter the ministry.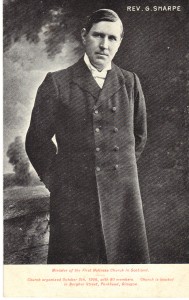 On 17th November Rev Sharpe married Jane Brayton Rose, and served in three New York State Churches at this time. In 1901 Rev Sharpe returned to Scotland.  He accepted a call to Parkhead Congregational Church in 1905.
  In 1906 Rev Sharpe left the Congregational Church and  formed a new Church.Land was bought in Burgher Street, and a sum of £300 was raised by the time the deeds were ready. Building of the new Church began in 1907. 
 Rev Sharpe crossed the Atlantic to raise funds for the building and the new Church opened in December at a total cost of £3,000. One of the teachers of the Church was Miss Olive Winchester, an heiress of the inventor of the Winchester Rifle ,who in 1909 came to Glasgow to further her studies at Glasgow University where she became the first woman to be admitted to the Faculty of Divinity, and is thought to be the first woman to be ordained in Scotland. I would like to thank the Rev Colin Woods and Rev Ian Wills for all their help in this project.