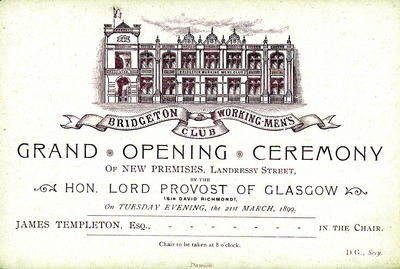 Bridgeton Sets An Example
Behind the growth of the Bridgeton Working Men's Club, Glasgow lies a striking history of successful management and business capacity on the part of working men.
 Today, after almost 70 years, the club is one of the most exemplary institutions of which the city can boast.
 It was in the year 1865 that a number of manufacturers and business men in the East End of Glasgow (numbering amongst them, Mr James Templeton, Mr William McInnes, Mr James Dick, Mr James T Tullis, J C Robertson, Mr James Colquhoun and others) had, the foresight and faith to propose, finance, and bring into being a model working men's club, to be entirely managed and directed by the workers themselves.
 These sponsors subscribed a considerable sum of money in the form of building shares at £25 per share, and the money was used in purchasing premises in Canning Street, near Bridgeton Cross.
 They then proposed to hand over the building, rent free, to the working men of Bridgeton, on condition that they subscribed 1000 shares at 5s per share. Nine hundred and twenty five of these shares were immediately taken up, the money accruing being for the purpose of furnishing the building with all the material required for a first class club. This was done, and so the Bridgeton Working Men's Club was born.
The club under the management of the working men, was an immediate success – so much so that they began to buy out  the original shareholders and in the year 1897 the North British Railway Company, now absorbed in the London, and North-Eastern Railway Company, wanted the club building and land, and after negotiations and arbitration they paid the sum of £9000. The club had then to seek other premises. Very soon property and land were secured in Landressy Street (adjoining the Glasgow Savings Bank). On this site were erected the new club buildings at a coat of £11,000.
In 1865 some local employers subscribed money to set up a club for Bridgeton's working men. The club originally occupied a building in Canning Street, Calton, but this was acquired by the North British Railway Co (for £9,500) in 1897. New premises were built in Landressy Street, and these opened in 1899.
The club provided a library and a variety of games and entertainments as well as food and drink, although no alcohol was served in the premises.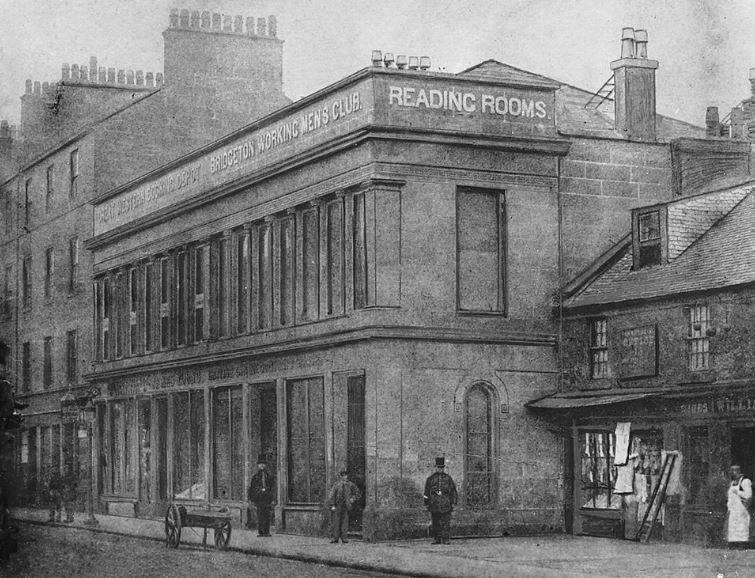 Working Mens Club when it was in London Rd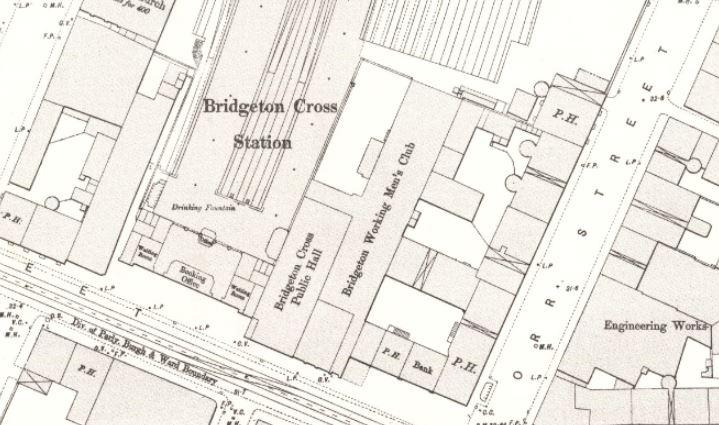 Map of Working Mens Club in London Rd