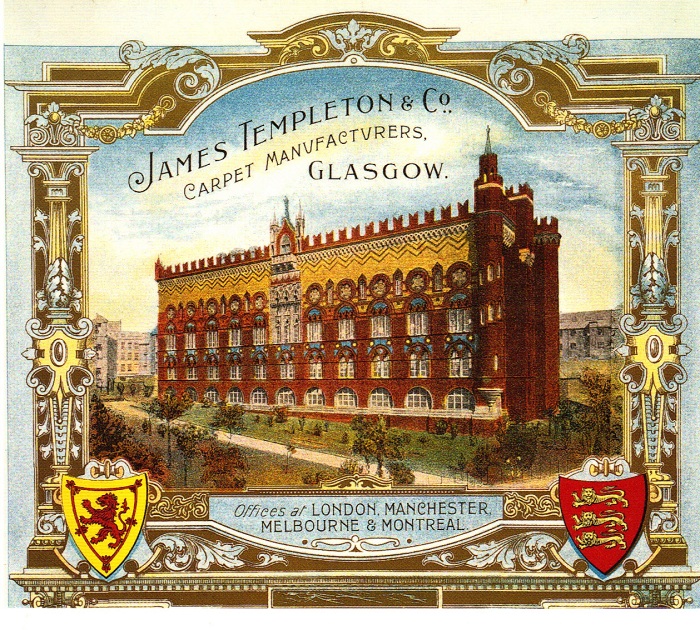 James Templeton was a farmer's son born in the Campbeltown area in 1802. As a youth he came to Glasgow to work in a draper's shop. In 1823 he moved to Liverpool, and so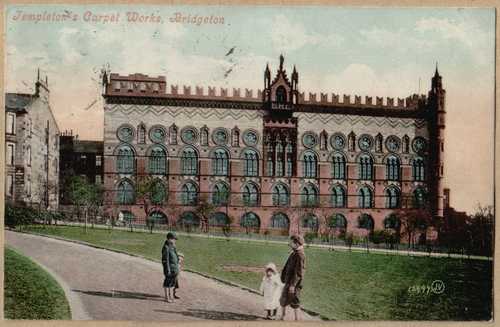 on after he obtained a lucrative post in Mexico where he made enough money to return to Scotland and start his own business. Initially he opened a shawl manufactory in Paisley, in 1829. In 1837, through contact with another shawl manufacturer, William Quigley, a new process was invented for processing chenille, a standard fabric for shawls, into compact C-shaped tufts which were both very soft and preserved their shape very well, enabling complex patterns to be created, and Templeton immediately saw this as ideal for carpet manufacture. Quigley and Templeton took out a patent on this process, but only for 14 years.
The ensuing carpet firm of "James Templeton & Son" was established in Bridgeton in 1839. The original factory was on King Street (now called Redan Street) but burned down in 1856. In 1857 a new factory was built on William Street (later renamed Templeton Street). The factory specialized in "picture carpets", such as the Twelve Apostles Carpet which they exhibit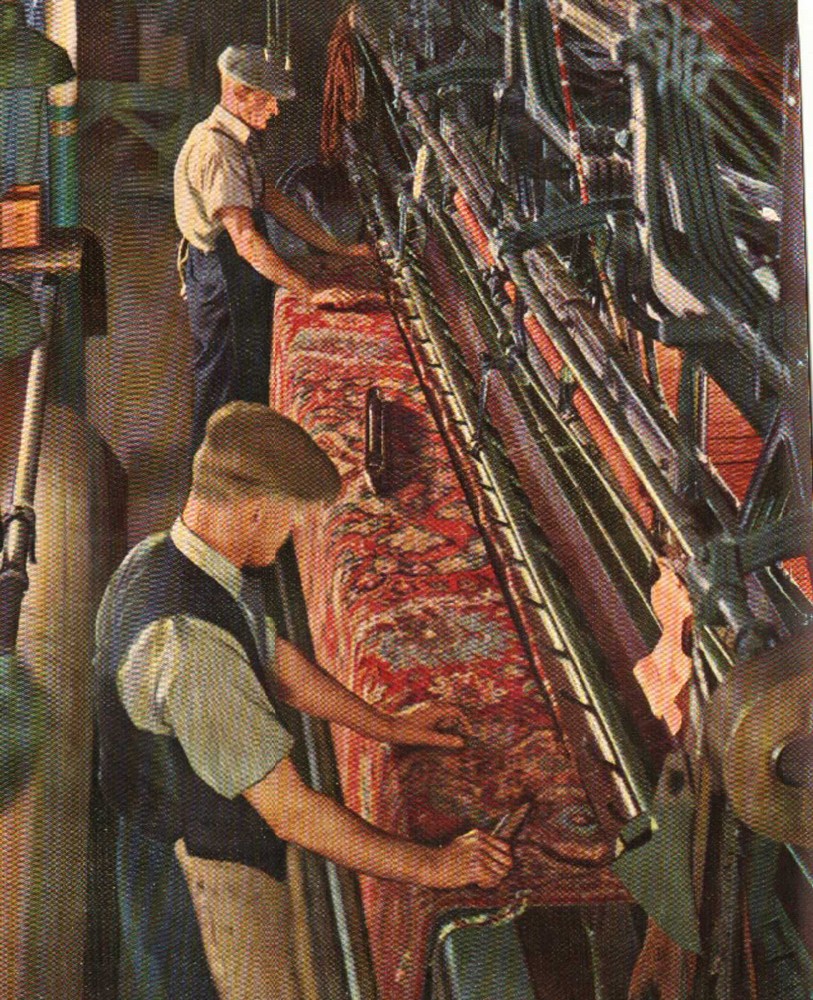 ed at the Paris Exhibition of 1867.
1 November 1889. At about 5.15pm that evening, unusually high winds caused a large section of the new western extension to collapse into the adjoining weaving shed. The workforce was composed almost entirely of East End women and many were buried in the ruins.
The Eastern and Central Fire Brigades attended the scene under Superintendent William Paterson and they were assisted by the Glasgow Salvage Corps and policemen in their search for survivors. The firemen and Salvage Corps were replaced at 7pm by organized search parties consisting of workers from the factory. Although many women were rescued, twenty-nine died in the rubble.
Maggie Shields was a power loom weaver at Templetons Greenhead Factory Calton , who went to her work on the 1st November 1889 and became one of the 29 young girls to loose there lives when the ornate wall that was being built collapsed during a storm and demolished the weaving shed where Maggie and her co workers were working. Maggie was 22 years old and lived at 10 Gibson Street Calton The Glasgow Herald on the 2nd November reported that Maggie was  missing at that time.The factory was designed  by architect William Leiper. His design was inspired by the Doge's palace in Venice. There was a memorial garden built at the corner of London rd and Tobago st that is believed to have been built to comemerate the death of these 29 girls and on the wall was a plaque with the poem, Green buds,for the hope of tomorrow.Fair flowers, for the joy of today.Sweet memory, the fragrance they leave us.As time gently flows on its way. Maggies grave can be found in  Janefield Cemetery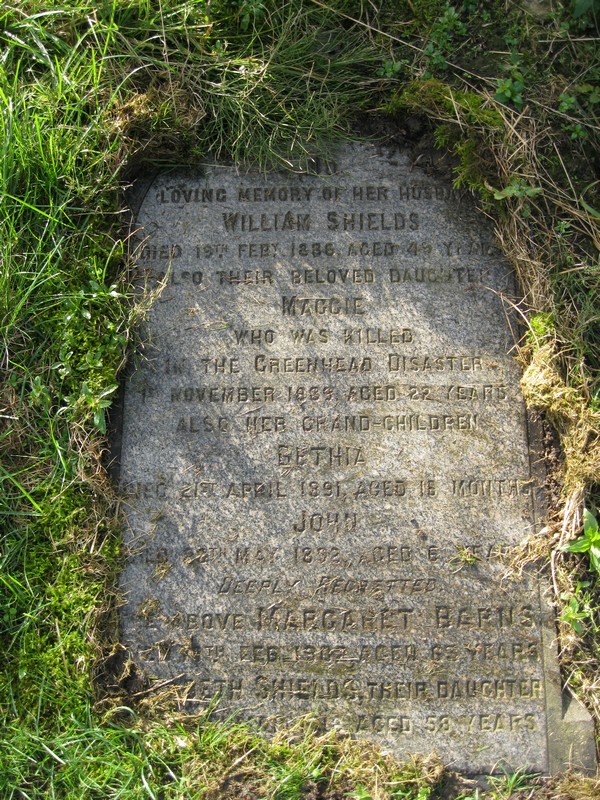 In 1900 when the workers were finishing for the day, they had been getting ready to go to a dance, when a fire broke out and trapped almost every worker, the majority of them burning alive. 
Club Rooms
At Templeton Street there is a well equipped Welfare building. The Concert Hall is capable of seating 400 people and lunch time concerts and film shows are frequently given.During the winter months dances and other social events are held in the evenings.
The Recreation Hall in the lower floor has been fitted out as a Men's Club with billiard tables, bowling tables, table tennis and darts.
Canteens
at five factories there are fully equipped canteens which serve main meals at very moderate prices. At other factories facilities are available for the service of teas. Tea trolley services are provided during the morning in all departments.
Recreation
at Burnside 25 acres are laid out as Recreation Grounds comprising Bowling Green, Tennis Courts and Hockey Pitches. The following recreation clubs and organisations are normally in existence-Bowling, Tennis, Men's Hockey,Girls Hockey,Football, Golf, Badminton, Bridge, Camera Club, orchestra, Concert Party, and Horticultural Society.