Robert Quigley
Daily Record 9th May 1954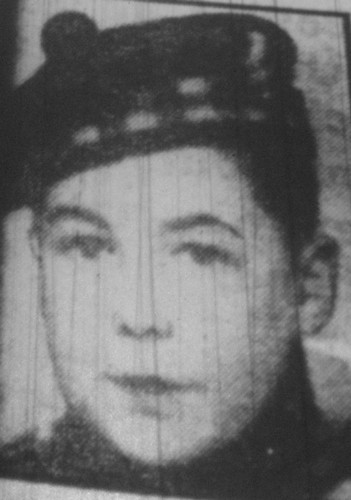 A 16-year-old Glasgow schoolboy was killed yesterday when a glass door at Riverside Senior Secondary School, 452 Springfield Road, shattered and a piece of glass cut through his clothing and punctured his abdomen.
The boy, Robertson (Robert) Quigley, of 97 Yate Street, Camlachie, was holding the door open for a little girl when a gust of wind blew it from his grasp. Instinctively the girl, Irene Bennett (13), of 15 Beechgrove Street, shot out her hands to protect herself but they smashed through the glass panel and slivers of glass flew in all directions.
One cut through Robert's clothing and embedded itself deeply into his stomach. The girl had slight injuries to her left hand and chin : Robert sagged slowly to the floor and soon his hands, holding his stomach, were stained with blood. A gym teacher was quickly on the spot and he carried Robert into an empty classroom to inspect his wound.
An ambulance was summoned and the boy was rushed to the Royal Infirmary where he was given emergency treatment but he died about two hours after admission. Grief-stricken Robert's mother last night told the 'Record' how he had left for school in the morning full of pride.
'He had written an essay on Sir Robert Peel' she said 'and the teacher had called it excellent. My boy was fairly bucked about that.' Robert sat the 'Highers' in March and was going back to school after summer for another year to attempt some more subjects.
'My husband died three years ago' said Mrs Quigley 'and since then I have had to go out to work. Robert and his wee brother Desmond have taken school dinners since then. It was during the dinner break the accident happened.'
After school hours Robert worked in the local Co-operative sometimes serving behind the counter, sometimes delivering messages—'to get pocket money and help out with the household expenses.'
'He was so responsible' said Mrs Isobel Jarvie, Robert's married sister. 'Since father died Robert more or less took his place. He was always helping mother and had plans for the family future.'
Robert was a piper in the Dennistoun Pipe Band and in the 106th Boys' Brigade Company. At the B.B. inspection a fortnight ago he won an athlete's badge—he and another boy were the only two in the company with this award.
And he was a keen table tennis player—a playing member of the Riverside School Former Pupils Club. A post-mortem is to be held today at the Royal Infirmary.