A Last Tribute to Sir Harry Lauder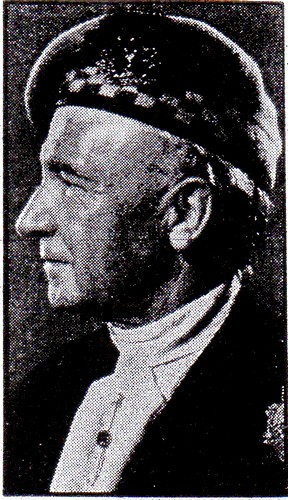 Tears as Pipers Play 'Flowers of the Forest'
Fifteen Hundred Patrons stood with bowed heads and tear dimmed eyes in the Metropole Theatre on Monday night as pipers played 'The Flowers of the Forest' a last tribute to Sir Harry Lauder, Scotland's greatest entertainer.
Among the audience were grandchildren of many who had applauded his pawky humour when he first appeared on that stage more than half a century ago (then it was known as The Scotia Music Hall).
My Heart Lies in Bridgeton
Sir Harry always had a soft spot in his heart for the East End. Among his many intimate friends was Bridgeton benefactor Mr. Alf Ellsworth to whom he once confided 'My heart lies in Bridgeton'.
At Old Folks Treat
His last appearance in the East End of the city was when he led the community singing and brought a little sunshine into the lives of the 4,000 pensioners at Mr. Ellsworth's mammoth old folks treat at Shawfield Stadium two years ago.
Sir Harry had a special word and a kiss for Granny Good, the oldest guest at the treat.
Mr. Ellsworth, who attended the funeral on Thursday, told the Standard that Sir Harry was always delighted to come among the old people of the district. He loved them and they loved him, he said.
Let's Have a Crack
Whenever I visited Lauder Ha there was always a cup of tea waiting for me and Sir Harry would draw a couple of easy chairs close to the fire and say, let's have a crack Alf.
His conversation was sparkling and I am sincere when I say he was one of the finest gentlemen I have ever met.
Mr. Ellsworth was one of the guests at Harrys 79th birthday party and he was also present when Danny Kaye paid a visit to Lauder Ha.
A Great Loss
He enjoyed nothing better than sitting in his garden puffing contentedly at his pipe, added Mr. Ellsworth. He was a kindly and thoughtful man and had a good word for everyone. We will miss him greatly.
Glasgow first saw him at the Saturday night burst in the Wellington Palace and the Greenhead Hall. Shortly after this he made his first appearance at the Scotia as an extra item in a Friday night performance.
At that time his repertoire included female impersonations, but he abandoned these when he became an established comedian.
By 1914 he had achieved worldwide fame, but although his comedy was broad he never once stooped, as so many did, to low comedy or vulgarity to achieve his laughs and applause.
In later years when asked by up and coming comedians what they should do to reach the top his unfailing advice was Always keep your material clean.
Still Popular
In his first pantomime at the Theatre Royal Glasgow he sang' I Love a Lassie' and it is still as popular today as it was then. Other songs which will always be associated with Sir. Harry are 'Roamin in the Gloamin, 'The Bonnie Heather Hills' and; The End of the Road'
Taken from Eastern Standard March 5  1950