Thomas James Bell
My name is Thomas James Bell. I was born on 3rd.March.1938.
I was born on the top floor of a tenement building at 15 Salamanca Street, Parkhead,Glasgow, E1.
My Parents had two children. Before me they had a daughter, Margaret Mary Bell, born February 13th 1937. She lived for only nine days. She died of Tuberculosis on 22nd February 1937.
My Parents were Thomas Edward Bell and Mary Tennant O'Neill. My Mother was born in Westmuir Street Glasgow in February 1911. She married my father at St. Josephs Catholic Church in 1936. She died in January 1948. I was ten years old. She died of Tuberculosis.
My parents adopted a girl called Margaret. She was about three years younger than me.
My father was Irish, born in 1888 in a town in Southern Ireland called Gorey, Co. Wexford.
My father played the fiddle and was also very good on the accordion. My father lived till he was 66 years of age. He died in Glasgow Royal infirmary in 1954 from Coronary Thrombosis.
My Father was previously married before he met my mother. He was married to a lady called Anastasia. They had two children, Joshua Paul and Maureinne. Anastasia and my Father married in 1913. She Died in 1935.
I attended three Schools whilst I was a child and these were; St. Michaels Infants School, Gallowgate till I was five, then St. Michaels Primary School, Salamanca Street Parkhead till I was eleven and then St. Marks Junior Secondary School, Shettleston, till I was fourteen. I left school at fourteen. I hated the latter school; it was run by Franciscan Brothers, who were very strict.
Our Top flat tenement house consisted of a front room with a lovely mirror overhanging a coal fire grate and one cavity wall bed. There was a small hall, and this contained a coal bunker big enough for two hundredweight of coal, if you could get it. The hall also contained a gas meter. The Front room contained two cavity wall beds and a black grate fire. There was a small kitchen and this contained a sink and cold water tap. The kitchen only measured a few feet square, and was very tiny. A few shelves were on the walls. There were three windows in the house, one front, one back and a small window in the kitchen.
Opposite my tenement building there were two shops, one was a newsagents and the other a delicatessen type. There was another newsagent a few closes along and also a greengrocery shop near there. There was a public house on the corner of Salamanca Street and Duke Street; It was called the Palace Bar. Just round the corner on Duke Street there were numerous other shops, including a cafe and fish & chip shop.
Also there was the Parkhead Public Hall. They held dances every week. It was very entertaining as a child watching the fights and waiting for the Black Maria (Police Van) to put the fighters in the van. This was a regular occurrence on most dance nights.
Tenement blocks of houses were adjacent to Beardmores, Engineering factory, guns, boilers and parts for ships, planes etc were made there.
I remember being told to run to the Air Raid shelters when the Germans tried to bomb the factory. A loud siren would sound before and after any attack. When the all clear was sounded we could go back to our houses. Most air raids were carried out in the middle of the night.
The Air raid shelters were made of brick and topped with eight inches of concrete for the roof. If you could imagine tenement buildings built in a square with open ground in the middle.
There were four air raid shelters to each corner of the tenements.
Food was very scarce. Food was rationed and we each had our own ration book. Sometimes I would have free school meals.
Sometimes I would visit the little cafe type restaurant that did cheap meals for Beardmore workers, or anyone else that could pay, normally the price was one sixpence per dinner. This was in Duke Street opposite East Wellington Street.
Buttermilk could also be had. A horse drawn milk churn would pull up outside the tenement blocks most mornings and for a few pence they would fill up your milk jug. Buttermilk was used to make bread, scones or it could be drunk. Butter was scarce, most times sandwiches were made of margarine or jam if it was available, fruit could be had but it was also scarce. A typical piece (sandwich) was margarine and sugar, or margarine and a sliced banana.
At the end of the war things improved. More food became available and was no longer on ration..
When my father died I kept the house going by paying the factor (owner) rent money. The House was privately owned and rented out. At the end of 1955 my uncle, my fathers brother came, and my adopted sister Margaret went to live with him and his wife. I never got on with him and I only saw him that one time. I met my adopted Sister Margaret in 1970, she was married living in Coatbridge and had two children. I have not seen her to this day, 2011.
Washing clothes in the tenements was done at the steamie (Wash House and Baths). Also you could have a bath in there as well for a few pence.
As I was getting older I often visited the billiard and snooker hall in Tollcross Road. I used to go there and I would collect the balls and set up the tables and sometimes score for a sixpence. In 2005 I visited it again; it was just as I remembered it
Then there was Celtic Park. On match days you could wait till half time then get lifted over the turnstiles for free. Also prior to any matches, fakirs and all sorts of magicians etc would do their turns, for a few coppers. Speaking of coppers, mounted police were always at the big games, especially Celtic and Rangers matches.
We had quite a few cinemas around and about Parkhead, the Granada, Parkhead Picture Palace, and the Black Cat. It used to be called "The Bug Hut".
There was a "Barrs Irn Brew Factory" the first one I believe.
Parkhead was quite a busy area. Not much crime. Not many cars around. Tramcars ran up and down Duke Street, Tollcross Road and The Gallowgate to Town Centre.
Doors could be left unlocked. No Drugs. Plenty of drinkers, there were three pubs in the vicinity of Salamanca Street, the Palace Bar, the Hare and Hounds and a Bass pub, the name escapes me.
My father worked as a Boilermakers Helper at Beardmores. He left Beardmores due to ill health.
He also worked for Scottish Farmers Dairies, delivering milk. To start with he had a horse. It was Called Tommy. After the horse he had a pull along milk float. He would travel around delivering milk to the tenements mainly in London Road and Dennistoun area. He then graduated to a full size milk float. As a child I used to go with him when I was off school on holidays etc. My Father was also responsible for cashing the other roundsmens takings each night and locking the dairy up. I often got a few pennies in tips at the weekends. I loved helping with the milk round.
In between helping my dad, he would often give me a shilling to go to the coal yards in Shettleston. This was to get coal for the house fire. I would make a boxcart type of barrow with an orange box and two pram wheels and two pieces of orange box for handles. This was to carry the coal back from the coal yards. The only heating in those days was a range consisting of a small oven and two plates on the top. All this was heated by the fire in the grate. All cooking was done on this stove.
My father had an allotment on Tollcross Road, adjacent to the railway line. He had a fair bit of land and a small coal fired greenhouse. Coal was supplied by engine drivers in their steam trains. My father used to call to them and they would throw down large lumps of coal for his greenhouse heater. Some of this coal went to our house at Salamanca Street.
In 1954 I left Glasgow and worked on a Farm in Kilmaurs, Stewarton, for one year. I moved on again to 79 New Road, Ayr in digs. I had a Job in a coalyard bagging coal and delivering it by lorry to Ayr and its surrounding district. Before my army service I had at numerous jobs. I never lasted long in any of them.
I was called up for National Service in March 1956. I signed on in the regular army in The Royal Corps of Signals. I was a linesman, Class 1. B. Trade. I reached the Rank of Full Corporal. In 19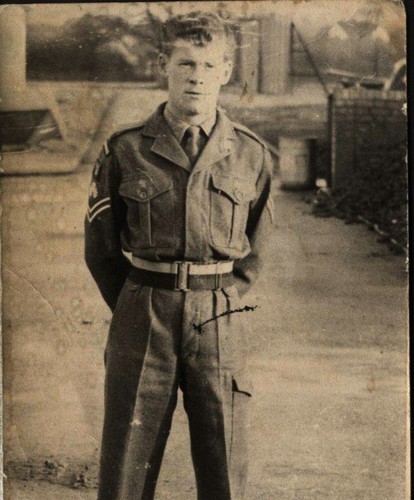 60 , I was stationed at a small town in England, called Droitwich. During my army service I got my Education from Sitting Army Certificates of Education (ACE's). I got All subjects in Ace3, all subjects in Ace 2, and English in Ace 1, by then I had finished in the Royal Signals. I had a Better education in the army than I ever got at schools.
I met a married a local girl and we have had three children, two boys and a girl who, sadly died at three and a half years old.
When I left the Royal Signals in 1965 I got a security officer's job in a large engineering company called Garringtons Limited. I had the Rank of Sergeant.
In 1970 I rejoined the Army this time the Territorial Army. I was a Corporal in The Worcestershire Regiment. I also enlisted again in the Territorial Army, this time in the Light Infantry and Mercian Brigade. I was in the Home service force from 1980 till 1983. All told I did sixteen years in the Services in three different regiments.
I was made redundant from Garringtons in 1984. I got another security Job on and industrial site for twelve months. In 1985 I got a security job in a Mail Order Company Called Kay & Company, a Worcestershire Company.
I saw out my time I retired in 2003. I have two lovely grandchildren and a lovely wife. I own my house. I own my car a Mazda Sports Saloon, V6.24V. 2ltr.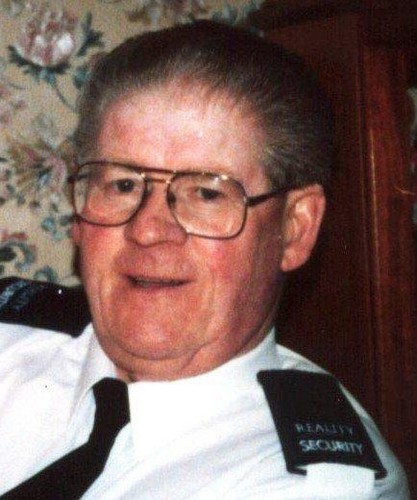 All in all not bad for a wee lad from Parkhead, I still love Scotland, especially Parkhead.
Thomas (Tom) Bell, tj.bell@sky.com