Parkhead Juniors
The club was founded in 1880 and was sometimes referred to as Parkhead Football Club. Their first ground was at the Sheddens where Old Shettleston Road and Shettleston Road meet. From there they moved to Powfoot Street/Beattock Street and their ground was known as Helenslea Park, although they were known to have played some games at Helenvale Park. They were five times winners of the Scottish Junior Cup in 1899, 1903, 1915, 1920 and 1924 as well as being runner-up on four other occasions. They were at one time the oldest team in the Scottish Junior League. Their third and final ground was once again named Helenslea Park and was located at Cuthelton Street. The club became defunct in 1964.
A special meeting of the Parkhead F.C. was held last week for the purpose of discussing field improvements. The present barricade on the Thornhill Street side has to be renewed, while negotiations are taking place and if successful the portion at Sorby Street will be taken back as far as the Exchange. He ground when the improvements are completed, will house about 25,000 with ease.
This is a photo of Elaine Galloway's Grandad who played for Parkhead F.C from 1928 he is on the back row second left.  His name was Patrick Galloway.This isPatricks League Medal
Glasgow Evening News Charity Cup Final
Daily Record and Mail
Monday June 10 1935
"News" Cup for The 'Shire
Chances Taken at Shawfield
Glasgow Perthshire 5 Parkhead 1
For a Cup Final, the Glasgow Evening News Charity Cup tie at Shawfield was a very quiet affair.  And the "gate" was most disappointing – only £51 was taken.
The result was alright, however, Parkhead weren't just so much out of the game as the margin suggests, but for all the danger they threatened to McCulloch they might have well as dispensed with an attack.
The 'Shire on the other hand were never slow to seize their chances.  Waters, with his speedy raids and runs up the right and smart crosses, Lynch and Knox by their clever manoeuvring and Love with his first time shooting, were always potential scorers.
In the middle, Pollock didn't give Taylor much rope and after the first 20 minutes Paterson and Queenan had also a good grip of their men and found time to have a pop at goal.
Kerr and Glendinning were a safer pair than Black and Galloway while McCulloch was seldom in any real difficulties.
Parkhead's Off Day
Parkhead never truly found their real form, McLure had too much work to do and, while Kirkwood, who at left half had the best scoring efforts, tried to add punch to the attack by going inside right, he was no more successful than the others.
Yuille didn't get enough of the ball and Rennie was really only the consistently good forward, except in the matter of finishing.
Parkhead's best periods were at the start of the game and the beginning of the second half.  Each time, however, the 'Shire gradually took the upper hand.
Watters made the openings for the first two goals, his crosses being driven home each time by Lynch.  Love who had few passes earlier on came into the picture after the turn, and seized two chances to double the 'Shire's score.
Taylor managed to get one home for Parkhead but Watters countered this by racing off and scoring a fine fifth goal.
Parkhead: Shaw, Black and Galloway, Pye, McClure and Kirkwood, Yuille, Findlay, Taylor, Rennie and Colquhoun
Perthshire: McCulloch, Kerr and Glendinning, Paterson, Pollock and Queenan, Watters, Lynch, Love, Knox and English
Referee: R. Carruthers, Glasgow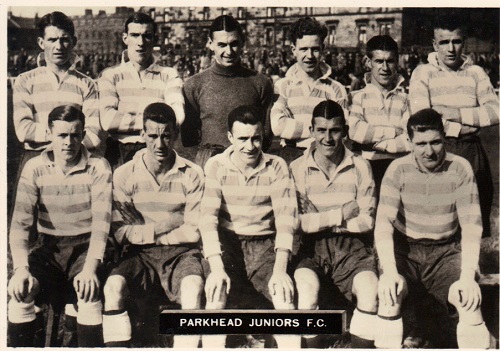 Parkhead Juniors FC
Back Row – L to R – H Findlay, A Rhodie, J Shaw, A Wightman, J Kirkwood (Capt), R Keatt
Front Row – L to R – J Yuille, A Houston, J Haughey, J Clark, J Galbraith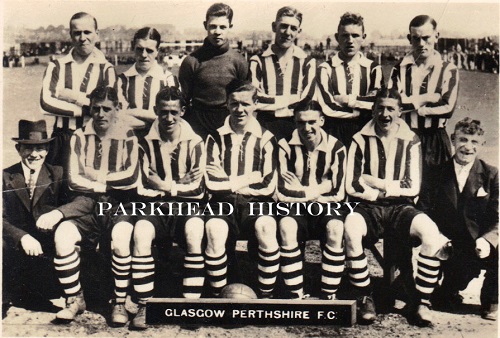 Glasgow Perthshire F.C
Back Row: – L to R – D. Donaldson, J. Kerr, G. Sim, D. Henderson, G. Cuthbert, J. Carrick (Captain),
Front Row:- D. Reid (Sec), D. Reid, E. Carrigan, W. McEwan, W. Paton, D. Mawer, W. Hunter (Linesman).
Colin Robb Parkhead F.C. Veteran
Colin Robb, a worthy Parkhead F.C. veteran still going strong on the general committee has served the club loyally for the last 40 years.
He has occupied nearly every position on the official side. Often referred to as one of the back room boys. Colin does not mind so long as Parkhead are in the front.
A machine operator at Beardmore's Colin thinks that the present Parkhead team is built on highly promising lines and destined to win some honours this season.
Among the great forwards Colin recalls playing with Parkhead were Robert Alexander(Hibernian), Dick and Peter Bell, Duggie Ferguson, and Willie Rankin who both played for Motherwell, Jim Taylor (Hibernian), and Sam Kennedy (Airdrieonians).
It has often been wondered how the Parkhead ground was named Helenslea? Colin says it was named after Helen Lee, the maiden name of the first president, J. Barton.
Colin, who is extremely proud of the fact that Parkhead are record holders of The Scottish Cup, hopes to see it come back to Helenslea Park in the near future.
Taken from Evening Times 1953
Parkhead White Rose
Winners of the Scottish Juvenile Cup in 1920-21.
Bridgeton Waverley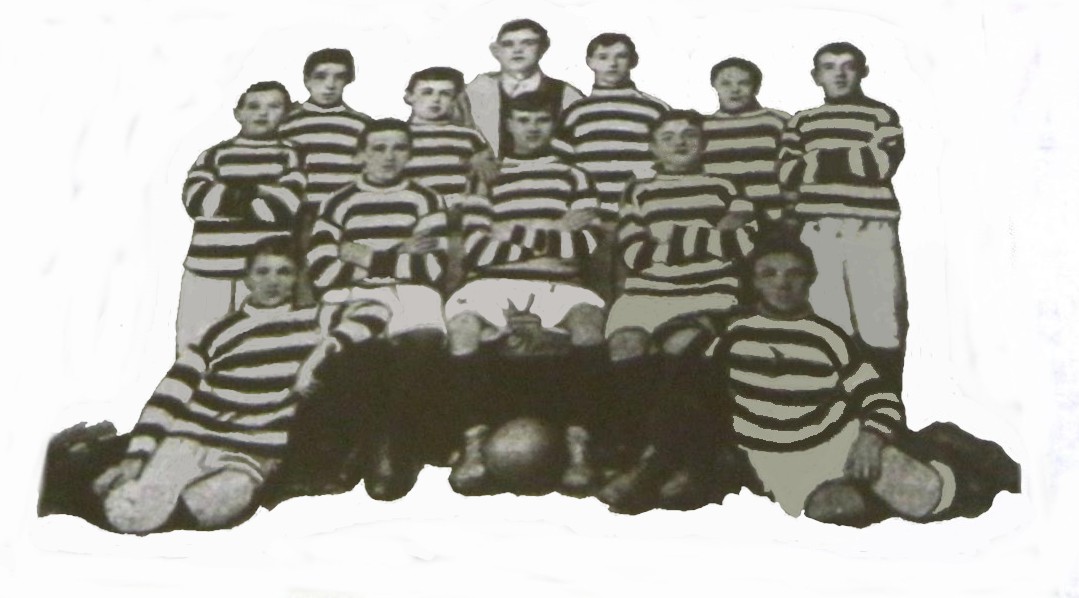 The club was founded by the former pupils of Queen Mary Street School, but was disbanded during World War One. It reformed and won the Scottish Juvenile Cup, three years on the trot, between 1921-22 season to 1923-24. It became a junior club in 1924, playing some games at Shawfield before moving to Barrowfield Park at Camlachie. They remained here until 1936 when the ground was compulsorily purchased by Glasgow Corporation to make way for the barrowfield housing estate. The next ground for Bridgeton Waverley was New Barrowfield, which was further east on London Road near to Westhorn, and this ground later became the training ground of Celtic. The club in its latter days played some fixtures at Carntyne Stadium before ceasing to exist in 1962.
Waverley Come of Age
The first sentence of this article is going to make you stare. Here it is –Bridgeton Waverley have a history extending to about 22 years . You don't believe it? I thought so.
But Danny Scott, Secretary of Bridgeton Waverley, knows more about the club than any two men breathing and when Danny tells me that Waverley was founded in A.D.1904, that is all there is to be said on the matter.
Because Mr. Scott helped to found it and of all people on earth he ought to know when the deed was done.
Yes. In 1904, in Marquis Street, Bridgeton, certain youthful football enthusiast took it upon themselves to form a football club to be known by the style and title Bridgeton Waverley F.C.
The club was unaffiliated; it was a free lance organisation without a regular recognised fixture list, until the season 1907-8. In that year Bridgeton Waverley entered the stormy sphere of second class juvenile football, and became a member of the "Clean Speech League", one of the various semi social sporting organisations founded by the late Mr. Charles Anderson, J.P., of the Polytechnic Warehouse and the Tollbooth Lads Club.
In 1908-9 the club played its first competitive "knock-out" tournament, entering without success, in the North- Eastern Junior Cup.
During the same year they recorded their first success, a humble one,  by taking third place at a juvenile tournament organised by Vale of Clyde F.C. Until the war the career of the club was just that of its ordinary juvenile prototypes.
But after the war, Waverley almost immediately began to hit the high spots, Soon people in the game began to sit up and take notice that a power, almost unparallel power, had been created in post war juvenile football.
The longer they sat up the greater became the power. It began in the Glasgow and District Juvenile League during its duration, was continued in the Parkhead and District League, and ended in the City and District Amateur League
It is merely stating the commonplace to say that the Bridgeton Waverley since the war monopolised the "plums" of Glasgow-even Scottish juvenile football. For five successive years the club won the Glasgow Juvenile Cup and for three successive years won the Scottish Juvenile Cup.
It is quite unnecessary to say that this was never done before. It will be miraculous if it is ever done in the present generation.
Taken from Eastern Standard 1926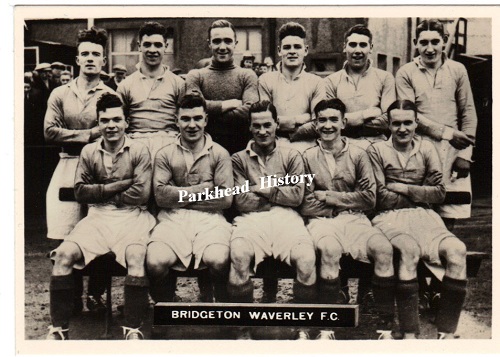 BRIDGETON WAVERLEY F.C.
BACK ROW – Left to Right  – J. Edwards, W. Shearer, W. Stewart, W. Picken, J. Wilson (Capt), J. Kirkwood
FRONT ROW – Left to Right – J. McFadden, W. Johnston, G. Wilson, W. Cameron, D. Blackwood
S

TRATHCLYDE F.C.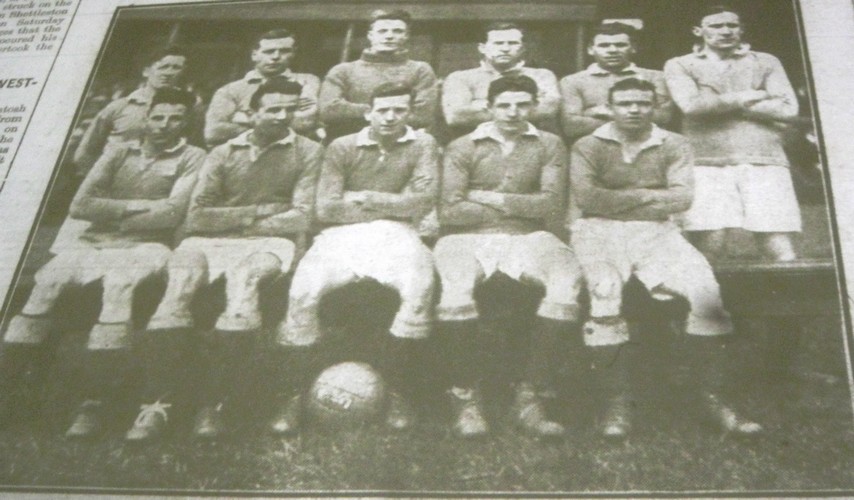 It is 34 years ago,1894, approximately since the inception of the Strathie's  and the rise of the club marked the finale of the celebrated Bridgeton Thistle F.C., a senior club whose rivalry with the Clyde for the favour of Bridgeton led to many a thrilling battle at Old Barrowfield and Beechwood Park.
A year or two before the beginning of Strathclyde F.C. the Bridgeton Thistle lost possession of their ground, Beechwood Park, entering from Strathclyde Street.
The Thistle secured a field, Braehead Park, on the South Side, but their glory had departed and they bade a sad farewell to football by playing the Clyde's full team at Barrowfield and a Present Players versus Past Players game at Braehead Park.
Scarcely had the grave, metaphorically, closed over the defunct Thistle ere several enthusiasts of the club bethought themselves of forming a new club and they founded Strathclyde F.C.
Taken from the Eastern Standard 1926

Strathclyde F.C.
Back Row:- L to R – J. Campbell, J. Hosie (Captain), R. Currie, A. Pirrie, J. Clark, D. Summers,
Front Row:- L to R – G. Paterson (Trainer), D. Robertson, L. Binne, M. McLaren, A. Duffy, John Bell, J. Mcmenemy
Shettleston Football Club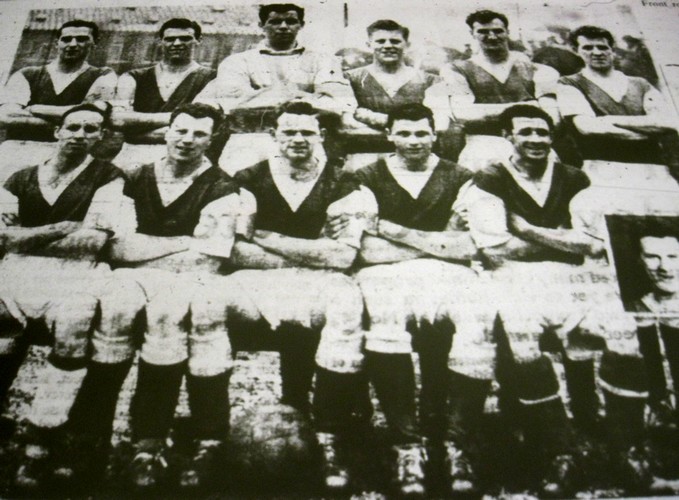 The history of Shettleston Football Club is as interesting and invigorating as any fan could wish for, and the rise of their present day fame is enough to make that fans chest swell with pride.
In 1902 there were three juvenile teams in the district, Wellshot Albion. Eden Thistle and Westburn Rovers. Some soccer –minded local men decided that it was time to have a junior club and so they held a meeting in a Shettleston cafe to discuss the proposition.
The result of the first meeting was so favourable that a later meeting was held in Hill Street Hall, Shettleston, where office bearers were appointed one of whom is still taking an active part in the clubs affairs today,( Mr William Jackson of 46 Easdale Drive Shettleston , is the only surviving founder member of Shettleston Football Club . Of the Clubs early days he recalls, In the first game of the Glasgow and District League. Cambuslang Rangers beat the Town 3-0 and the crowd invaded the pitch and gave the referee a hammering.)
Starting with no capital whatever Shettleston received their first strip, blue in colour, from the juvenile teams. Thus equipped they started their first season by handing out a 2-0 to Baillieston Thistle.
In their next game they beat Carmyle Fernlea 3-2. And in their third game they drew 2-2 with Benburb at Govan. In all , they rounded off a very successful first season by losing the League Championship by one point.
Today Shettleston hold the distinction of having received the largest transfer fees for junior players in Britain. The older fans will remember Hood, who went to Everton for a record sum, and later Alec Jackson who created an all time British record for a junior transfer fee when he went to Birmingham.
The present Lord Wheatley, Q.C. played for the team at one time and his deadly left foot, which he used with unerring accuracy when he got near the opposition's goal is still spoken of where older fans meet.
More players have turned senior from Shettleston than any other junior club in the country. For instance, former Town players who were capped for Scotland include Jimmy Fleming and Jimmy Marshall (Rangers) and Alec Cheyne (Aberdeen) who scored the only goal of the Scotland v. England international in 1929, direct from a corner kick one minute from time.
And of course Tommy Doherty, who played for Celtic and Preston North End before settling for Arsenal, is another to add to the star-studded array of men who made good after playing for Shettleston, the club that started on a shoe string.
SHETTLESTON JUNIORS
BACK ROW – Left to Right – J. Mess, J. Smith, J. Ferguson, J. Forgie (Capt), A. McGatchy, D. Lorimer,
FRONT ROW – Left to Right – A. Dowdells (Trainer), S. Rennix, N. Murphy, A. McVicar, J. McGuigan, J. Kempton, H. O'Brian
Some Lesser Known Teams
Celtic : Played one game versus Eastern on 25th January 1873
Parkhead White Rose : Scottish Juvenile Cup Winners 1919-1920
Parkhead Athletic : 1899 to 1905. Played their matches at Nelson Park
Parkhead Columba : No dates available
Parkhead Forge : 1920 to 1921. A welfare club, almost certainly associated with William Beardmore & Co.
Parkhead Railway : 1924 to 1926.
Parkhead Swifts : 18** to 18** (dates unclear)
Parkhead Hibernian : 1898 to 1899. Junior club
Camlachie Skinners : 1882
Parkhead Tram garage football team 1924
Tommy Lorimer, front row sitting 2nd from the right
Parkheadhistory would like to thank Glesca Pals for the use of this photo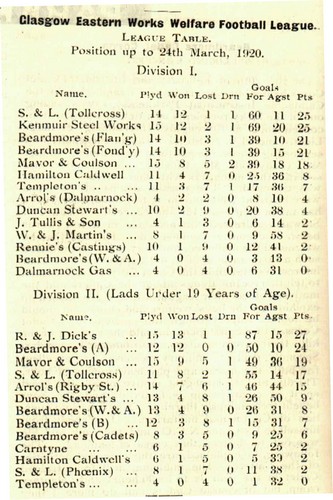 Many football teams were made up of the workers of the East End
Parkhead's Flagpole
Team Must Do The Needful
Parkhead F.C. is very proud of its latest acquisition at Helenvale Park- a magnificent flagpole, sixty feet in overall height, presented by a good friend of the club, Mr. Willox, son of the famous old Parkhead bailie and historian. The splendid erection was provided free of all cost to the club.
Parkhead have had a few years out of the honours list and Mr Hannigan and his colleagues have had to undergo a good deal of "leg-pulling" about the uselessness of a flagpole without any flags.  As a result, the Parkhead officials are tipping their club as "a sure thing" for premier honours next season – nothing but the league flag will satisfy.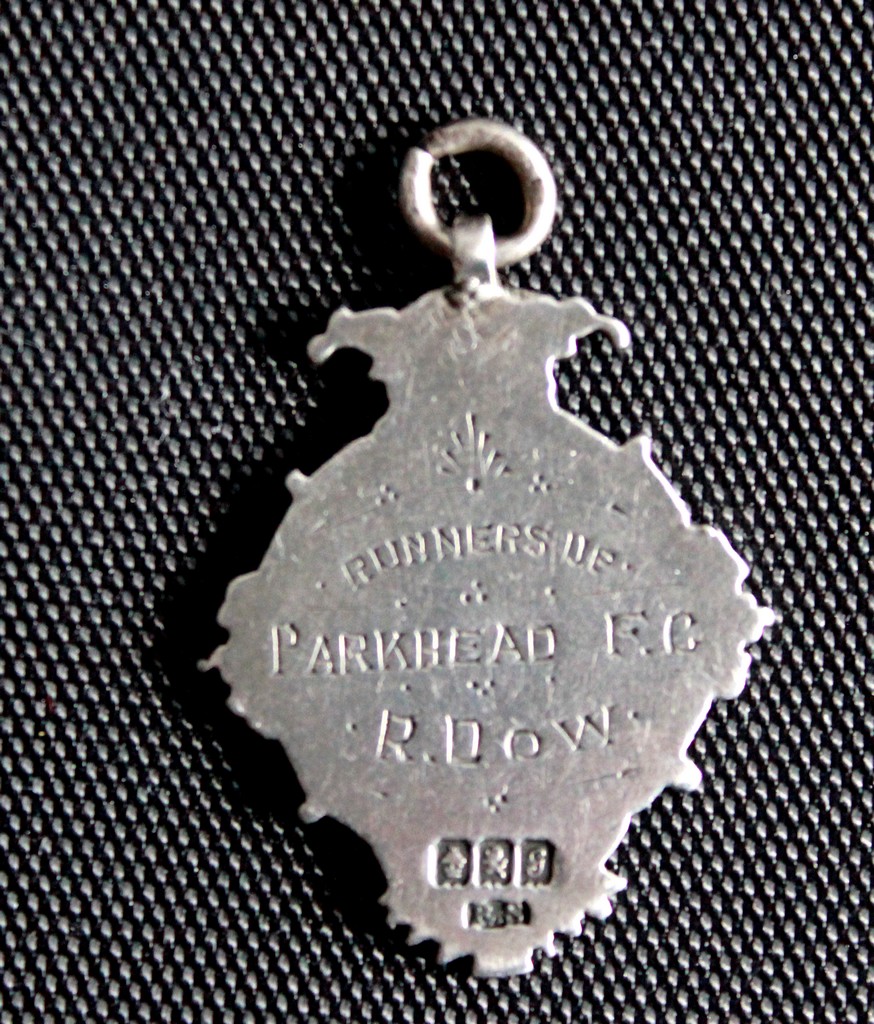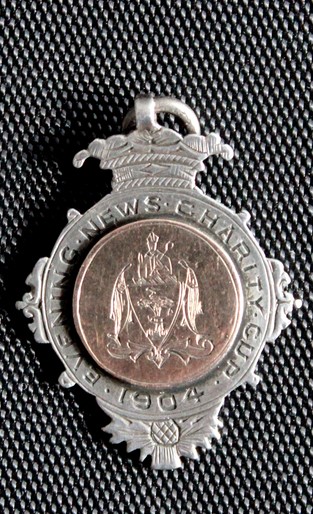 This is a runners up medal for the Evening News Charity Cup that has been kindly given to the site by Caroline O`Neill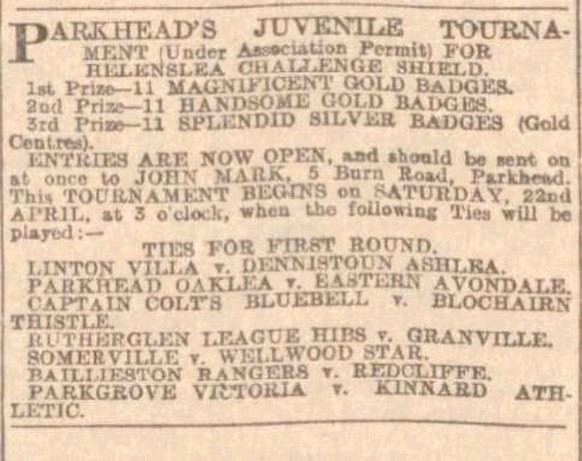 Advert from The Scottish Referee 1909