This page is dedicated to those who gave there lives and are laid to rest in Janefield cemetery
To read the inscription on the war graves please click on the image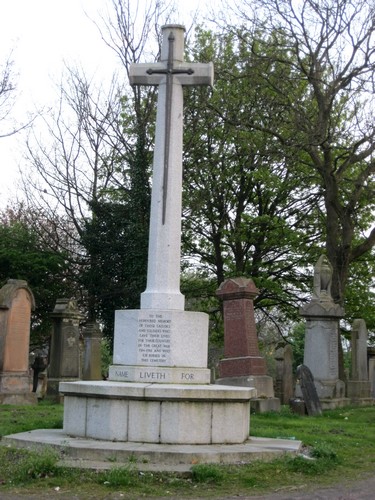 The Cross Of Sacrifice is the first monument you will see as you walk through the gates of Janefield Cemetery. The Cross was designed by Reginald Blomfield and represents the faith of the majority.The Cross Of Sacrifice is found in cemeteries with over 40 war graves.
Janefield cemetery has a V.C winner in its grounds.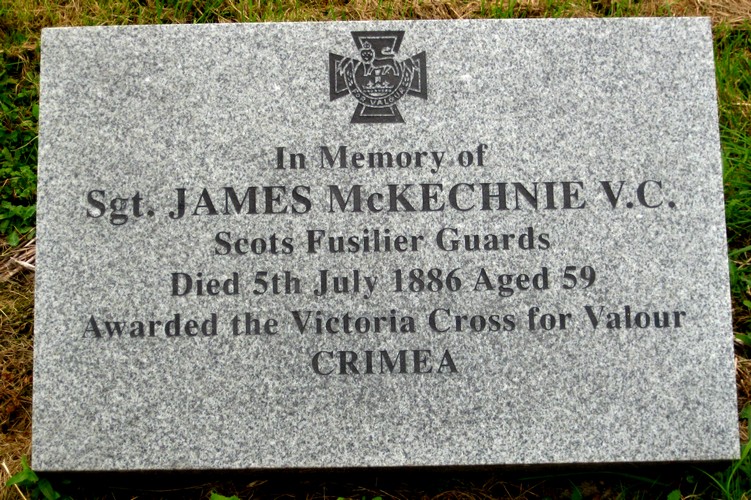 He was born to Colin McKechnie and Jane McKechnie (Nee McGregor) and was married to an Elizabeth McLean.McKechnie was 28 years old, and a sergeant in the Scots Fusilier Guards, British Army during the Crimean War when the following deed took place for which he was awarded the VC.On 20 September 1854 at the Battle of the Alma, Crimea, when the shot and fire from the batteries just in front of the battalion threw it into momentary disorder, it was forced out of its formation, becoming something of a huge triangle, with one corner pointing towards the enemy. A captain was carrying the Queen's Colour which had the pole smashed and 20 bullet holes through the silk. Sergeant McKechnie held up his revolver and dashed forward, rallying the men round the Colours. He was wounded in the action.

These graves are tended by The Commonwealth War Graves Commission, since this photo was taken a new stone has been added .

The same grave stones with the adition of 326604 Private W Macintosh Arg & Suth Highrs
26th March 1917 Aged 22
These stones have recently been added by the Commonwealth War Graves Commission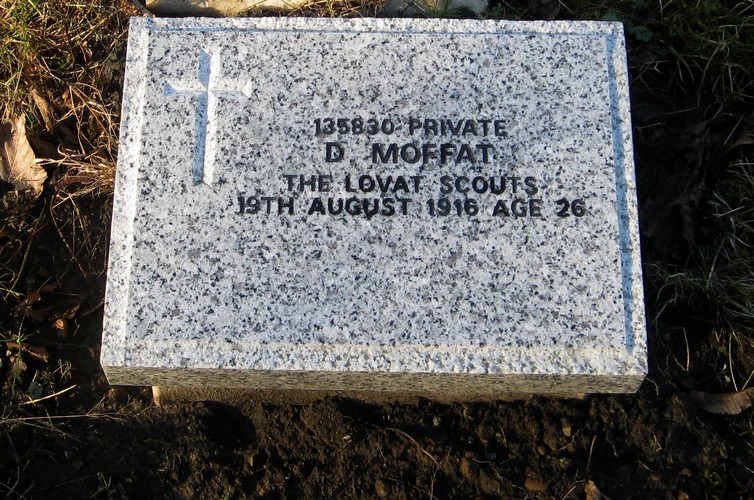 Private D Moffat 135830 Lovat Scouts
In Memoriam
By William Regan
War is like that- ringing bells and sobbing woman, lightsome joy and grief beyond expressing. While the victory carols are sounding and humanity dances along the flower strewn path towards peace let our souls observe a two minutes stillness to honour the fallen and mourn with those who have lost their loved ones.
Victory Day comes like a sharpened dagger to open the wounds of the bereaved. Too late, too late , they cry. The fallen fathers, sons, brothers, husbands, and sweethearts- these will not come back.
They have gone from human sight but their remains the memory of their goodness, their uncomplaining courage, their loving kindness for dear friends.
He is not dead, but sleeps; and soon he will arise and take me by the hand. I know he will awake and smile on me as he did yesterday.
And he will have some gentle word to say, some kindly deed to do; for loving thought, was warp and woof of which his life was wrought.
He is not dead. Such souls forever live in boundless measure of the love they give.
Private Robert W HENDERSON 14361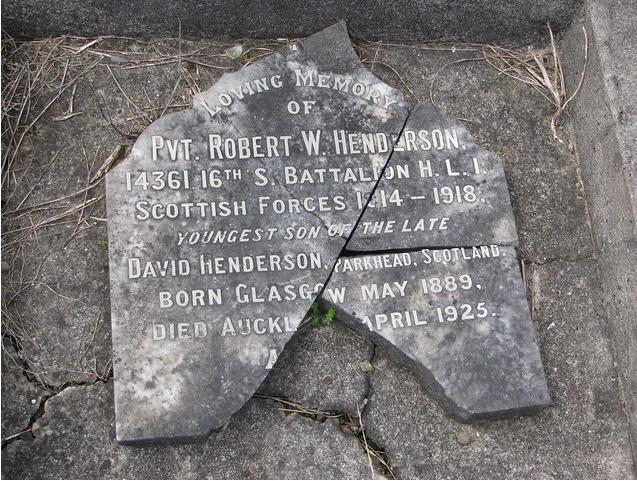 16t
h S. Battalion H.L.I.
Scottish Forces 1914-1918 Youngest son of the Late David HENDERSON, Parkhead, Scotland
Born Glasgow May 1889 Died Auckland 9 April 1925 At rest Area 2 Block G Lot No 61 Auckland
DEATH OF A STRANGER. BODY FOUND AT MANGERE. THROAT CUT BY RAZOR.
MIDDLE-AGED MAN'S END.
The body of a middle-aged man, Mr. Robert William Henderson, was found at about 3.00 p.m. on Thursday in Massey Road. Mangere, with the throat cut. An inquiry into the circumstances of the man's death was opened this morning by the district coroner. Mr. D. A. Sutherland, in the Courthouse, Onehunga. James H. Webb, commercial traveller, residing at Mount Albert, stated that he was motoring along Massey Road, Mangere, on Thursday. When he was within about half a-mile of the post office he went with a lady and gentleman to the side of the road, where he found the man lying with his throat cut. Witness saw Henderson's chest move once, and some froth and blood came out of his mouth. There was an open razor lying alongside the body and near the right hand, which was covered in blood. Constable Poll removed the body to Onehunga. It was fully dressed. He found a post office savings bank book in the coat pocket. No. 48733, and bearing the name of Robert W. Henderson, Wellington. There were also two railway left luggage tickets from Frankton Junction, with a letter to the stationmaster, and a photograph partly torn up. Correspondence found on the body was also torn up into fragments. There was also a silver cigarette case bearing the inscription, "Presented to D. Henderson, 1909, by r Spring Boig Tennis Club." He was a stranger in this district. At this stage the inquest was adjourned to obtain the evidence of Mr George W. Cox, of Mangere, who is reported to have given the man a ride. [1]
New Zealand Herald, Volume LXII, Issue 18996, 18 April 1925, Page 11
MANGERE SUICIDE.
CONCLUSION OF THE INQUEST
The adjourned inquest on Robert William Henderson, who was found dead at Mangere last week, was held yesterday before the district coroner, Mr. D. A. Sutherland. G. W. Cox, farmer, Mangere, stated he saw Henderson in the morning, walking along Massey Road, and gave him a lift in his car. Soon after three o'clock in the afternoon he saw him in the same road, walking in the opposite direction, although he had said in the morning that he was going to Papatoetoe. J.S. Henwood, farmer, Mangere, said he saw Henderson, and when he got home a lady rushed in to say that a man was on the road with his throat cut. There was no sign of a struggle. The police have discovered, through the Hamilton police, a certificate of birth showing that Henderson was born in 1888 [sic] at Parkhead, Glasgow. A verdict of suicide while temporarily insane was returned. [2]
Possible family:
1901 Scottish Census:
David HENDERSON, Grocer Shopkeeper aged 60 in the registration district Camlachie, Glasgow, Parkhead residing at 124 Salamanca Street with his family:
Annie P HENDERSON aged 26
Agnes C HENDERSON aged 24
James HENDERSON aged 22
Edith G HENDERSON aged 19
David E HENDERSON aged 14
Robert W HENDERSON aged 12
Margt C HENDERSON aged 10
Ernest A THOMSON aged 30
Scrub now growing over grave.
Subsequent photo taken 12 October 2014
This tragic story of a Parkhead soldier was sent to me by
Sandra Lees   https://www.flickr.com/photos/porkynz/
https://www.google.com/maps/d/edit?mid=1oAlQSWUyoOjI9SsFVjSG66rwB2nZU4y-&usp=sharing