Tollcross Burying Ground
Tollcross Burying Ground (now known as Tollcross Cemetery) is located at 114 Corbett Street, Tollcross G32 8LG in the east end of Glasgow.  It is said the first burial was in 1897, but records show there were earlier burials than this with James Shaw of Airdrie who died aged 91 in October of 1879.  Earlier records seem to have been lost but it is known that the author of "Wee Willie Winkie", William Miller is buried in an unmarked family plot against the north wall.  Many propminent people were associated with the land on which the cemetery now stands and many of the prominent people of Tollcross and other areas of the east end of Glasgow and beyond are interred there.  This page will try and highlight those buried there including, prominent people, merchants, the War dead, and others of interest, and the stories behind their lifetimes.
—————————————————————————————————————-
Rev. William McIlquham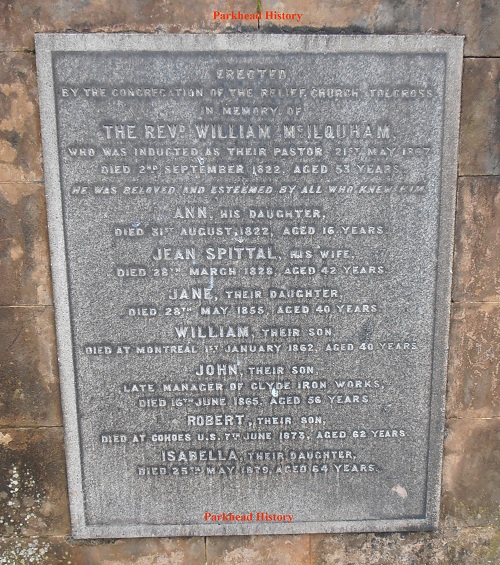 The Rev. William McIlquham was the first minister of Tollcross Relief Church.  He was elected on the 2nd of March 1807 and Inducted at Tollcross on the 21st May 1807.  He died 2nd September 1822 aged 53 years.  This tablet was erected on the east wall of the churchyard by the congregation of Tollcross Relief Church in his memory.
Also interred here is his son John McIlquham who preferred to be called Meikleham who died on 16 June 1865.  John was the manager of Clyde Iron Works and built a villa called East Thorn.  After his death the villa was purchased by his employer James Dunlop.
Rev. William Auld

William Auld was the son of the Reverend William Auld, Minister of Sir Michael Street Relief Church, Greenock and was born at Glassford in 1806.  He studied at the University of Glasgow where he was a creditable student, from which he passed to the Relief Theological Hall, Paisley under the instruction of the Rev. Mr Thomson.
The Rev. William Auld was elected minister by a majority of 60 votes on the 21st November 1832 and ordained on 28th February 1833.  He was the third Minister of Tollcross Relief Church.  There was an ordination dinner in the session house, for which the charge was 2s 6d; the elders being free of charge.
His Manse at Parkhead was for many years a busy marrying centre; and on the Friday of the Glasgow Fair and Hogmanay he would sometimes have ten to fifteen couples attending at his house in order to be made happy.
His Jubilee was celebrated on 24th October 1882.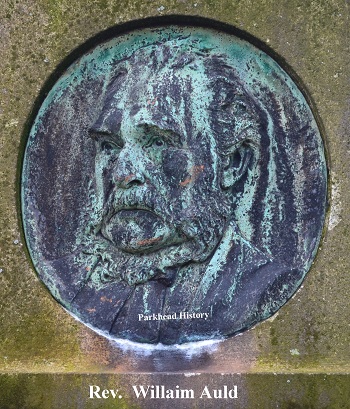 He died at the manse, Parkhead on 17th April 1885 in the 79th year of his age and fifty third of his ministry and was buried in the churchyard behind the vestry in lair number 498.
An obelisk was subsequently erected to his memory by former members and friends of the church resident in the city, in conjunction with a large number of members of the church.  It is of Aberdeen granite, and bears on the east side, in bronze relief, an excellent representation of his features.  His wife lies beside him.  A large family was reared in the old manse.
One of his surviving sons was the Rev. James Auld, who was ordained by The Glasgow United Presbytery (22nd February 1875) as a missionary to Caffraria.  For some years the station at Elujilo was under his charge, but since he laboured at Columba in the same colony.  He was honoured by being chosen moderator of the South African Church.
Rev. George Sharp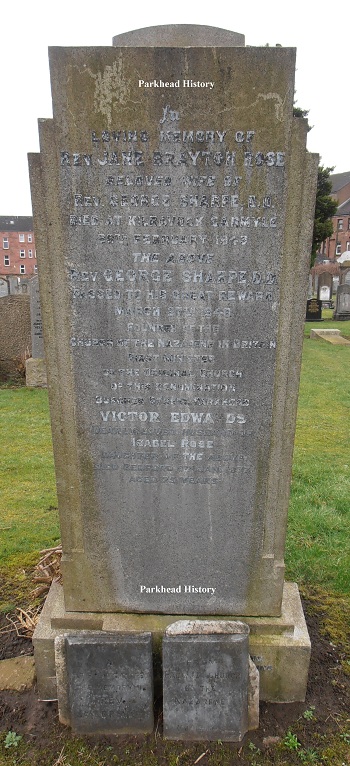 George Sharpe was forty when he arrived in Parkhead in 1905. Rev Sharpe was born on 17th April 1865 in Dalziel near Motherwell and became a clerk in Colville's steel works.  In 1886 George Sharpe moved to New York State to work for the Rose family who had emigrated to New York from Motherwell in 1884 and owned steel works there.  While in New York George became a member of the Methodist Church and later received an offer from his minister to pay for his tuition through college to enter the ministry. On 17th November Rev Sharpe married Jane Brayton Rose, and served in three New York State Churches at this time. In 1901 Rev Sharpe returned to Scotland.  He accepted a call to Parkhead Congregational Church in 1905.  In 1906 Rev Sharpe left the Congregational Church and  formed a new Church.Land was bought in Burgher Street, and a sum of £300 was raised by the time the deeds were ready.  Building of the new Church began in 1907.  Rev Sharpe crossed the Atlantic to raise funds for the building and the new Church opened in December at a total cost of £3,000. One of the teachers of the Church was Miss Olive Winchester, an heiress of the inventor of the Winchester Rifle ,who in 1909 came to Glasgow to further her studies at Glasgow University where she became the first woman to be admitted to the Faculty of Divinity, and is thought to be the first woman to be ordained in Scotland. I would like to thank the Rev Colin Woods and Rev Ian Wills for all their help in this project.
George Sharpe died on the 27 March 1948.  His wife Jane Brayton Rose was also a Minister and died on 28 February 1943.
The inscription on the stone reads;
In loveing memory of Rev. Jane Brayton Rose beloved wife of the Rev. GeorgeSharpe D.D. died at Kilravock, Carmyle 28 Feb 1943.  The above Rev. George Sharpe D.D. passed to his great rewardMarch 27 1948.  Founder of the Church of The Nazarene in Britain.  First Minister of the original church of this denomination Burgher Street, Parkhead.
Rev. Thomas Simpson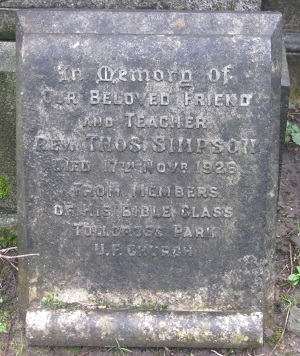 The inscription on the stone reads; In memory of our beloved friend and teacher Rev. Thomas Smith.  Died 17 November 1926.  From members of  his Bible Class Tollcross Park U.F. Church.
Rev. Thomas Simpson was Minister of Tollcross Park U.F. Church Drumother Drive, Parkhead from 1910 to 1926.
Thomas Simpson died on 17 November 1926in the Manse in Drumother Drive, Parkhead at 1.30pm from sudden cardiac failure.  He was the son of  Thomas Simpson, a bootmaker and Elizabeth Nichol.  He married Margaret McNee Smith  in 1895 in St Giles, Edinburgh.
Daniel Paterson

The inscription reads;  In loving memory of Daniel Paterson A.R.C.O.  For over fifty years the organist and choirmaster of Tollcross Central Church.
Born 1874 and died 18 May 1948.
John Kinniburgh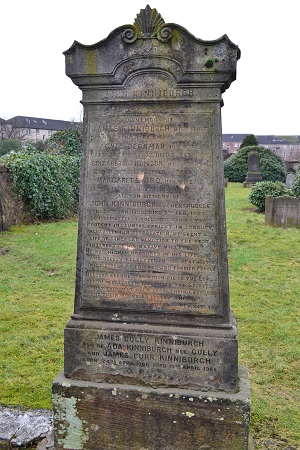 The inscription reads;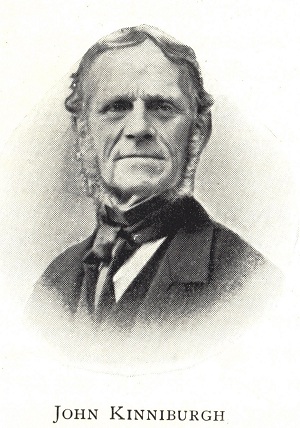 John Kinniburgh, Auchenshuggle.  Born 29 January 1792. Died 7 February 1880.  Schoolmaster in Tollcross for 46 years.  Prudent in counsel, upright in conduct, benevolent in disposition, he spent a lifetime of singular devotion to the best interests of his native village.
He was highly honoured in his life and deeply regreted in his death by a wide circle of friends and former pupils.
He was the principal schoolmaster in Clyde Ironworks Public School, Fullerton.
He was the Session Clerk in Tollcross Church for an unbroken period of 47 years.
He was of the Weaving trade but attended Glasgow University and qualified himself  for taking a position in the teaching profession in which he was very successful.
"The Dominie" as he was popularly and affectionately called, by his steadfast continuance in the welldoing, especially on behalf of the poor, retained the esteem which he had long before earned, to the end.
George Honeyman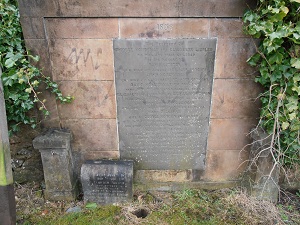 George Honeyman, Spirit merchant, widower of Elizabeth Litster, died at 1.30am on 3 December 1864 aged 67 years from Hypertrophy after an illness of 3 months.  His usual residence was 347 Great Eastern Road, Parkhead.
George's parents were David Honeyman and Helen Scott.
Informant of the death was George Litster, nephew of 136 Dalmarnock Road.
George Honeyman is buried in a family lair in Tollcross Burying Ground, Corbett Street; Tollcross.
George Honeyman was shown in the Glasgow Post Office Directories as being a spirit dealer at Great Eastern Road between 1847 and 1864.  His home address was given as 3 New Road (Duke Street).
George Honeyman Farmer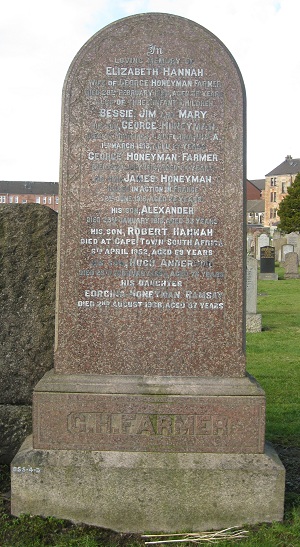 George Honeyman Farmer was born to Alexander Farmer, a Blacksmith and Mary Honeyman on 14 December 1849.
He married three times. 1st to Mary Graham then 2nd to Elizabeth Hannah and 3rd to Marie Jessie Auchterlonie.
He died at 0.10 hours on 27 July 1914 at 1358 Duke Street, Parkhead aged 66 years.  Informant of his death was Alex Farmer his son of 1328 Duke Street.
George Honeyman Farmer owned the George Honeyman Farmer Vaults which was situated at 615 Great Eastern Road (Gallowgate) on the corner of New Road (Duke Street).  When the pub was demolished it was replaced by the current building which had a public house on the ground floor and it was called the Oak Bar.
Alexander Dansken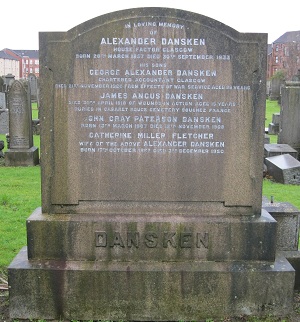 Alexander Dansken was born 28 March 1857 and died 30 September 1933.
He was a well known House Factor in Parkhead and surrounding districts in the firm of Dansken & Fletcher.  His wife's name was Catherine Miller Fletcher
His home address was Rosemount, Drumother Hill (Drumover Drive).
Archibald Allan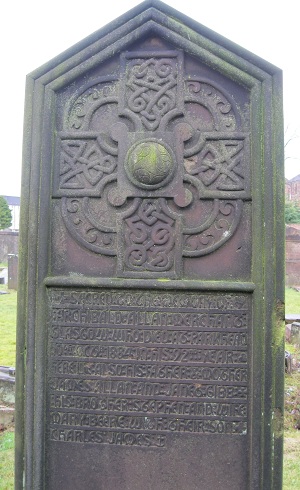 Archibald Allan was the son of James Allan, a Weaver and Janet Gibb and was born circa 1792.
He died single on 10 October 1884 in his 92nd year
He was a Provisions Merchant and had premises at 100 Brunswick Street and 85 Candleriggs Street.
His home address was 18 Westmuir Street.
Edward Marshall McPhee
The inscription reads;
Erected by the Associations Clubs and Friends of the Scottish Junior Football Association in memory of Edward Marshall McPhee who for 44 years served the intests of the S.J.F.A.
Born in Tollcross 29 May 1870 and died there 23 April 1936
Treasurer for 6 years between 1893 and 1899.  Secretary for 37 years between 1899 and 1936
Edward Marshall McPhee was born on 29 May 1870 at Main Street Tollcross to John McPhee, a Carrier and Mary Marshall
He married Catherine Dewar McAllan in 1896
Edward Marshall McPhee, a Woolen Warehouseman (retired) died at 10.00am on 23 April 1936 at 54 Anworth Street, (formerly Upper Dunlop Street) Tollcross aged 65 years.  Informant of his death was John McPhee, his son of 1 Buckingham Drive, Carmyle.
The memorial was erected at the frontright of the gate of the church graveyard which was accessed through Church Lane from Tollcross Road.
Edward Marshall McPhee is laid to rest in the Session House lair 2 which today is unmarked.