James Paterson

Dr James Paterson died at the Bridge of Allan, the 21 June 1881 aged 72 years. He had been laid aside from active duties of his large practice for the previous nine months, the phase which his i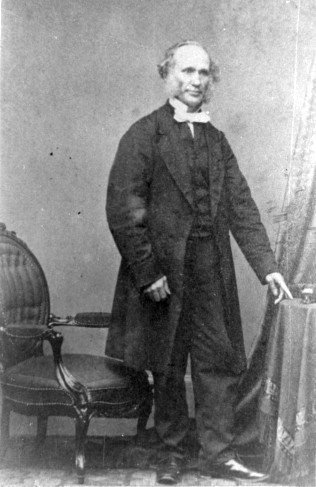 llness assumed being that of an obscure cerebral affections. To the last, his intellect was perfectly unimpaired though he suffered from a particular variety of hemiplegia. The son of a medic, Dr Paterson entered the medical profession in the year 1834, and like many more who have risen in Glasgow to the position of honour, if not of affluence, he began practice in the east end of the city in a completely humble way. He there very soon acquired a large connection becoming well known as a successful obstetrician. In the year 1841, he became a Fellow of the Faculty of Physicians and Surgeons of Glasgow, under the old regulations, and in the same year accepted the position of lecturer on midwifery at the Anderson's College, then called Andersonian University. From this position, he retired in 1863 being succeeded by the late Dr James G. Wilson.
James M Sinclair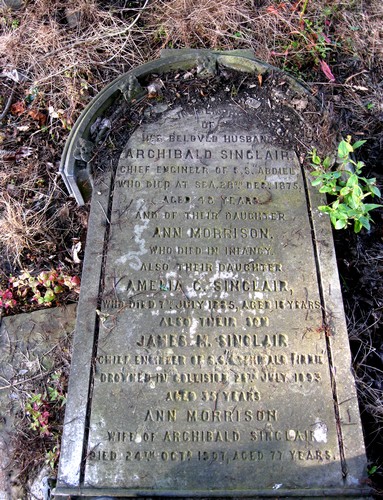 1st Engineer. Of the  S.S ARCHIBALD FINNIE"  The "Archibald Finnie," official number 97,567, was a screw steamship built of steel by Messrs. Fleming & Ferguson at Paisley, Renfrewshire, in the year 1893  She was owned by Mary Ann Finnie and others,  At 7 p.m. of the 25th July she left Ardrossan With a crew of thirteen all told, under the command of Mr. William Hamilton, At 2.12 a.m.on the 26thJuly  he was awoke by a blast from the steam whistle and immediately ran on deck, and from there on to the starboard side of the bridge, where he found the first mate, who remarked to him as he crossed over to the port side, "That beggar is going to be into us." On looking over the port side lie observed the hull, masthead, and green lights of a steamer the S.S PEARL" coming straight for them, and in about half a minute the "Archibald Finnie" was struck about 15 ft. before the bridge, at about an angle of 45, cutting nearly into the main hatch.
Alexander Cruikshanks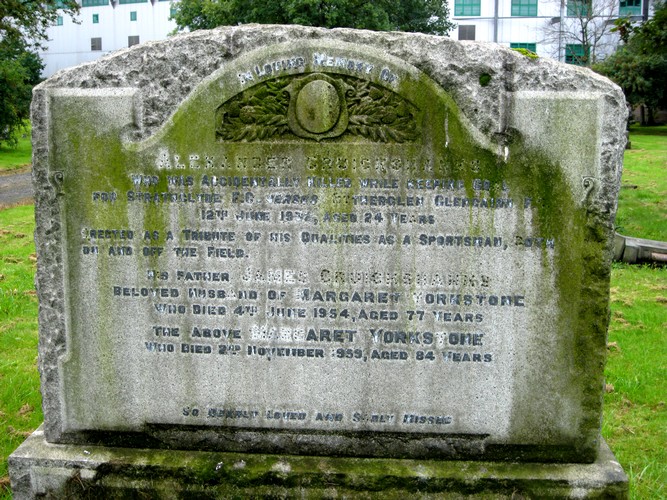 Alexander Cruikshanks, the late Strathclyde FC goalkeeper who died  as the result of injuries accidentally sustained while playing against Rutherglen Glencairn at Barrowfield Park. There was a great congregation, representative of the whole football world present in St Thomas's Parish Church, Campbellfield Street, with which the tragedy victim had been closely associated, and where he began his football careerThe Reverend Andrew Bryson, minister of St Thomas's, also took part in the service. Mr David Meiklejohn and Mr George Brown (Rangers FC) read the lessons; Mr W G Holburn the well known referee was the soloist ; and Mr Purcell J Mansfield, F.R.C.O., A.R.C.M., the noted organist was at the console
Alexander Cruikshanks died  12 June 1932 aged 24
Bailie David Willox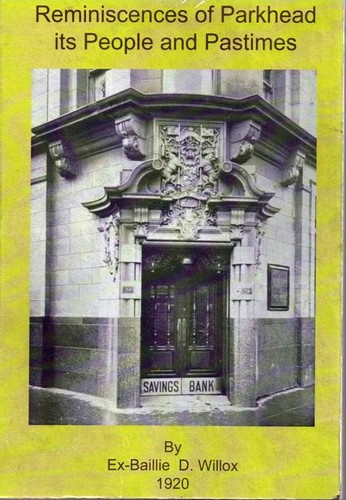 David Willox was born on the 3rd June, 1845, in what was then the rural village of Parkhead, but now included within the boundaries of Glasgow,  His father was a handloom weaver.  David Willox,  went to work in Miller's print works, Springfield Road, where he received  three shillings a week. He later worked as a foreman at Beardmore's Parkhead Forge, before going on to establish his own chemical works.
Mr. Willox enjoyed reading books and was known t0 borrow books where ever he could get them. He went on to occupy a seat at the Council Board, Mr Willox sat  for the Whitevale or 4th Ward, which included Parkhead. As an author, but still more as a poet, Mr Willox has attained a considerable literary position.He was the author of Remininiscences Of Parkhead Its People And Pastimes, which provides a valuable insight into the history of Parkhead. David Willox was part of the British bowling team that played against the Ontario Bowling Association in 1905, as well as being a member of Belvidere Bowling Club. He died on the 17th December 1927 aged 82 years old.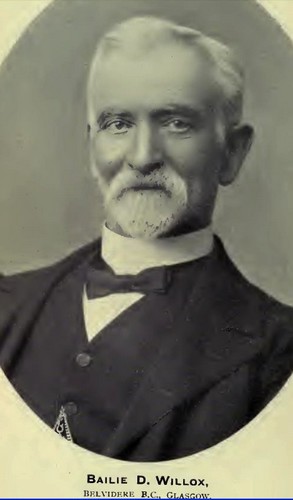 William Livingston
 William Livingston (Uilleam Mhic Dhunleibhi)
THE ISLAY GAELIC BARD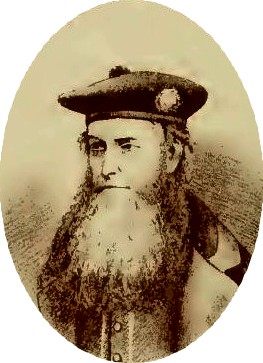 The inscriptions on the stone are written in Gaelic and English but sadly the the side with the English has suffered weathering damage and part of the inscription has delaminated making part of it illegible.
William Livingston wrote poetry in Gaelic under the name of Uilleam Mhic Dhunleibhi (various spellings) and was known as the Islay Gaelic Bard.  His poems are contained in a book entitled "Duain Agus Orain" and the book contains a brief sketch of his life.
He was born on the remote Gartmain Farm near Bowmore on the Island of Islay in September 1808 to James Livingston, a joiner and Christina Mac Fadyen.
William started off his working life as a tailor but left his native island to seek his fortune in the Low Country.  After leaving Islay he worked for a while in Dumbarton and Vale of Leven, and later at Comrie and Strathearn. William then moved to Greenock and resided there for a number of years before moving to Glasgow. One address given for him was an attic room in a house at 1 Dale Street, Tradeston which was later renamed Tradeston Street.  He spent the rest of his days in Glasgow, when he died very suddenly in July 1870, and was laid to rest in Janefield alongside his wife, Christina who predeceased him by a few months.
 David Auld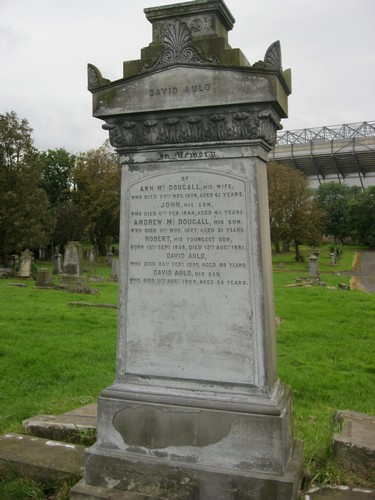 David Auld and Sons, engineers. Began with a workplace in Bridgeton in the 1840's and later took over The Whitevale Foundry in 1882. David Auld held a number of patents–for a mechanical stoker for furnaces and retorts, and, in perticular, for a steam trap.And a self acting steam valve, regulator and damper.
Thomson Black

 Thomson Black, Soot Merchant and Chimney Sweep Died 6th October 1872 aged 58 years and lived at 59 Saltmarket Street. Thomson Black gets a mention in a book called Glasgow Past and Present in the Reminiscences and Communications of Senex 1884.Senex is talking about the changes that has happened in the Saltmarket when he says "There are some queer things to be seen in the Saltmarket yet,however, and we cannot help giving the following verbatim et literatim transcript of a chimney sweeps sighn which we copied the other day when inspecting the locality."
Thomson Black chimney sweep, he does live here,hel sweep your vent and not be dear,if your vents take on fire hel put it out at your desire. Soot Merchant in this close.
George Barrie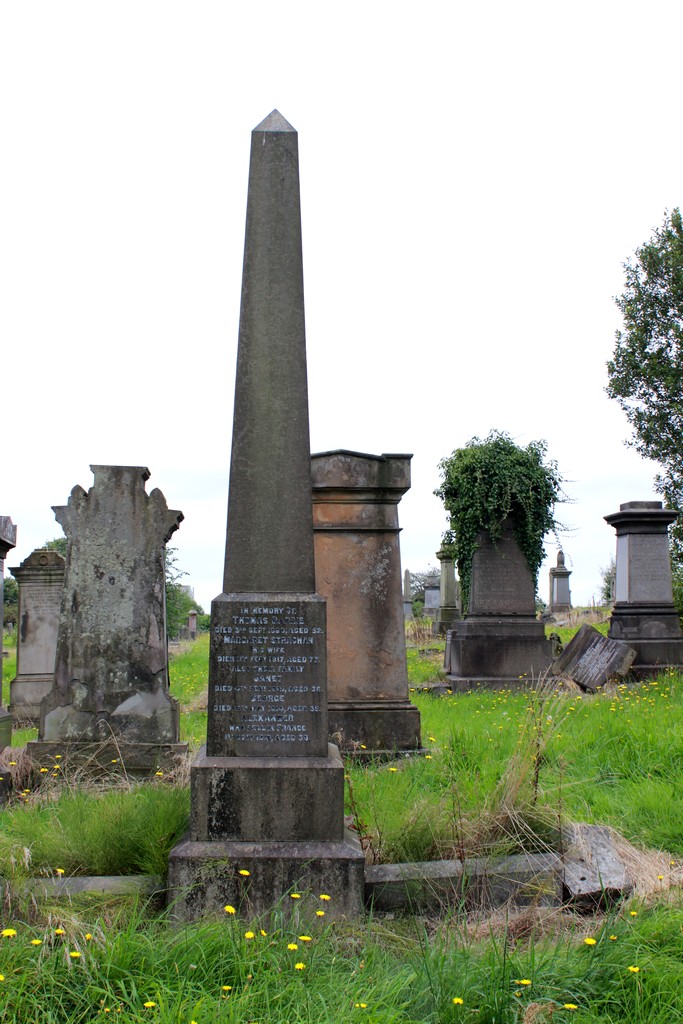 It is with great sorrow that we have to chronicle the death of Lance Corporal George Barrie, who succumbed to wounds received in his country's service on 31 January 1916.
By his death the Battalion has lost, perhaps its most promising NCO, for he was a whole-hearted soldier and a keen student of all military matters; and, moreover, full of resource and initiative.  These latter qualities, amongst others, endeared him to his comrades, and won him the esteem of all the Battalion.  They were outstanding in his civilian days and served to make him a champion amongst boxers and a good, all-round athlete.  A clean, fair sportsman, he has played the game well and nobly even unto his death.
As a comrade he was staunch and unselfish, and with a true and brave man's generosity always considered the needs and weaknesses of his fellows.  We miss him sadly and will keep his memory ever green; his personality influenced, his example inspired us.
……….. "the elements so mixed in him that Nature might stand up and say to all the world,
'This was a man!'"