Parkhead Heritage
Parkhead began as a small weaving village positioned at the junction of Great Eastern Road and Westmuir Street. Great Eastern Road was an extension of Gallowgate from Glasgow Cross and extended along Tollcross Road. The lands of Tollcross are very ancient and were in the past owned by the Corbett family, and later the Dunlops. The Dunlops built Tollcross Mansion which serves today as a residential facility for the aged.Westmuir Street leads to towards Shettleston, another very ancient place, made up of three parts ; Eastmuir, Middle Quarter and Westmuir.
Watson Building

Watson Tenement, Westmuir Street / Duke Street
Built in 1905 to a design by Crawford & Veitch. The busts of members of the Watson family are clearly visible. The Watson family owned a significant amount of property in and around the Parkhead area. They lived at Muiryfauld Drive, and James R. Watson was a Professor of Chemistry, whilst George R. Watson was a merchant and victualler.

Glasgow Savings Bank

Trustee Savings Bank, 1456 Gallowgate
Built in 1908 to a design by John Keppie, a contemporary of Charles Rennie Mackintosh, who it is believed may have contributed to the building's design. No longer used as a bank, it became a public house a few years ago. The sculpture at the top of the building signifies Prudence Strangling Want, very appropriate for a bank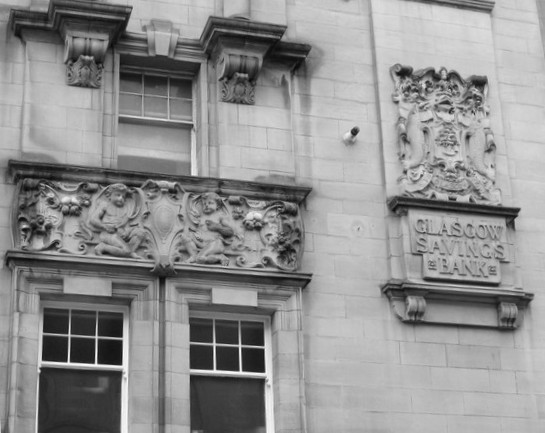 Tenement, Gallowgate / Duke Street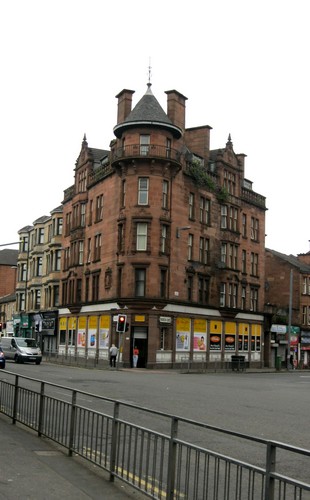 Built in 1902 to a design by Burnet, Boston & Carruthers, on the site of George Honeyman Farmer's public house, which would have been well used by travellers going to and from Glasgow. At one time this public house was called The Oak Bar. George Honeyman Farmer is buried at Corbet Street Cemetery Tollcross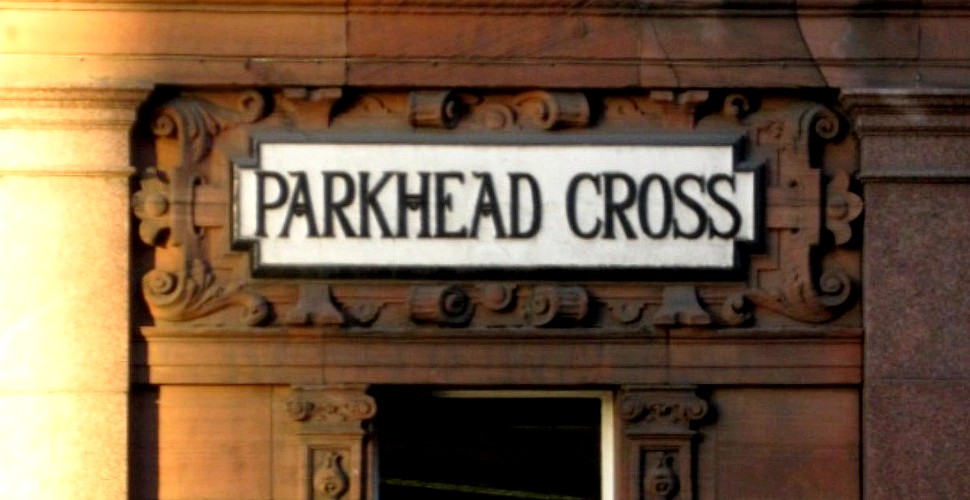 Church of The Nazarene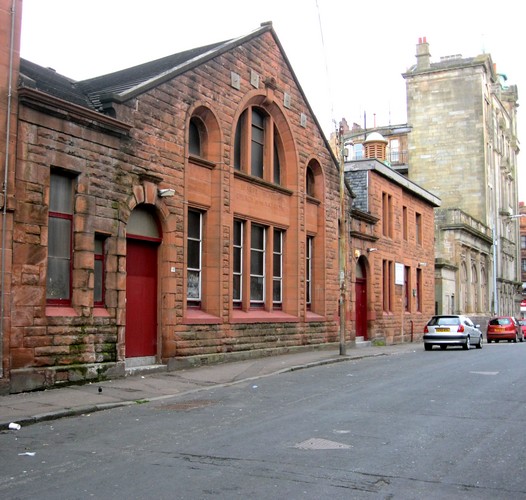 George Sharpe was forty when he arrived in Parkhead in 1905. Rev Sharpe was born on 17th April 1865 in Dalziel near Motherwell and became a clerk in Colville's steel works .In 1886 George Sharpe moved to New York State to work for the Rose family who had emigrated to New York from Motherwell in 1884 and owned steel works there. While in New York George became a member of the Methodist Church and later received an offer from his minister to pay for his tuition through college to enter the ministry. On 17th November Rev Sharpe married Jane Brayton Rose, and served in three New York State Churches at this time. In 1901 Rev Sharpe returned to Scotland.  He accepted a call to Parkhead Congregational Church in 1905.  In 1906 Rev Sharpe left the Congregational Church and  formed a new Church.Land was bought in Burgher Street, and a sum of £300 was raised by the time the deeds were ready. Building of the new Church began in 1907.  Rev Sharpe crossed the Atlantic to raise funds for the building and the new Church opened in December at a total cost of £3,000. One of the teachers of the Church was Miss Olive Winchester, an heiress of the inventor of the Winchester Rifle ,who in 1909 came to Glasgow to further her studies at Glasgow University where she became the first woman to be admitted to the Faculty of Divinity, and is thought to be the first woman to be ordained in Scotland. I would like to thank the Rev Colin Woods and Rev Ian Wills for all their help in this project.
http://www.parkheadnazarene.org.uk/
Parkhead Pentecostal Church                                                                                                                Reverend George Sharpe
Parkhead Congregational

Parkhead Congregational Church : Sited at 49 Westmuir Street, built in 1879 to a design by Robert Baldie. March, 1863, when some twenty scholars and three teachers met for the first time in the old Beaming Room in "Shinty Ha to form a Sunday school that would later become the Parkhead Congragational Church , .  At that time Parkhead was a village consisting largely of weavers' shops and separated from the city by long stretches of green fields.  Its population would number about five thousand.  The nearest churches were at Tollcross on one side and Whitevale on the other. The Congregational Church, meeting then in Dovehill, resolved to commence Sabbath School work in Parkhead.  So on the first Sabbath of March 1863, the Sabbath School opened". In 1879 the present church in Westmuir Street was built and there the scholars found a home. In 1925 the church was renovated ,the minister at the time was Rev Henry Wallace . i would like to thank Rev Jack Graham  for his help on the site.  http://www.parkheadcc.org/
Calton Parish Church

Calton Parish Church first opened its doors on Tobago street Calton 1793 . In1905, admist much opposition from some of his brethren,Rev W Chalmers Smith B.D.  bought and erected in the east-end of his parish, at Helenvale Street , Parkhead, a corrugated iron building to be used as a place for Divine Worship, and personally canvassed the neighbourhood and was successful in gathering round him a band of people to form the nucleus of a congregation. Today many ministers look back with loving eyes to the tears spent in the Master's service in the 'wee tin kirk' as it was affectionately called, and which laid the foundation of the building of their spiritual career,1935, he saw and took part in the opening and dedication to the worship of Almighty God the beautiful parish church now situated in the Parkhead district of Glasgow.
Calton Parish Church is also home of the 67th Boys Brigade
John. R. Adam & Sons

John R  Adam & Sons, Scrap Metal Merchants, is a fourth generation business that  started  at Parkhead Cross in 1895.  The photo on the left shows the gates and offices that looked onto the Gallowgate.  The firm also had a garage on Springfield Road across from St Michael's Primary  School, and a yard where the new Sir Chris Hoy Velodrome is being built.  Many people of Parkhead will remember the bust that stood above the gates on the Gallowgate.  This was stolen at one time, but later recovered and is now at Adam & Sons' premises at The Riverside Berth, King George V docks in Glasgow.  The man looking after the horses was known as Rab the Carter.  These photos are copyright © 2011 of John Adam & Sons.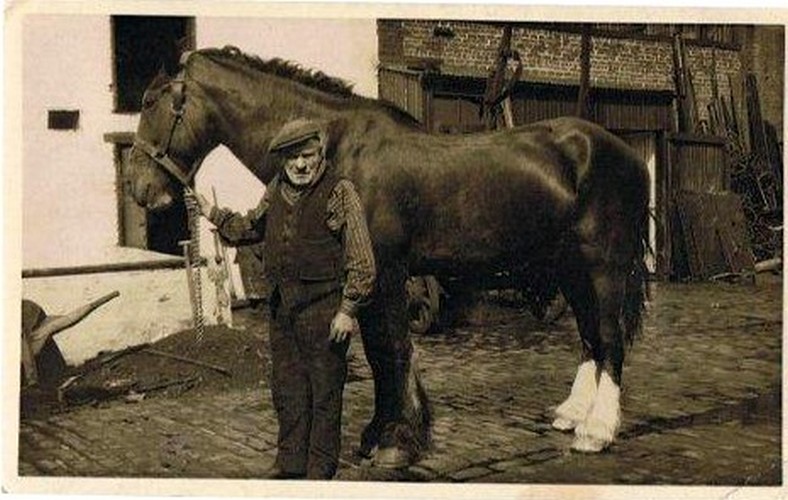 I would also like to thank Alex Mungall for all his help.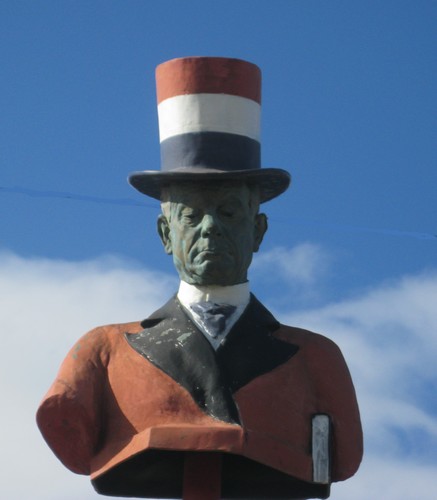 Sir Chris Hoy Velodrome

The 4000-seat velodrome will sit adjacent to the National Indoor Sports Arena. Both of them are key venues for the  2014 Commonwealth Games. the Velodrome was desighned by , Schuermann Architects. And is owned by Glasgow City Council,it is located in Dalmarnock alongside the Athletes' Village. . The arena will have a 250-metre track  With a viewing capacity of 2,500 and an additional 2,000 temporary seats for Glasgow 2014, it will be able to attract some of the world's top cycling events to Glasgow.
Celtic Football Club  
1887 Celtic Football Club is formally constituted in St Mary's Church Hall in East Rose Street (now Forbes Street), Calton. The purpose is stated as being to alleviate poverty in Glasgow's East End parishes.1967 Celtic complete their most glorious season by winning every competition entered: Scottish League, Scottish Cup, League Cup, Glasgow Cup and the European Cup. The climax of the season is the 2-1 victory over Inter Milan in the European Cup final played at the Estadio Nacional in Lisbon on May 25, 1967. Celtic thus become the first British (and non-Latin) club to win Europe's most coveted trophy.
John 'Jock' Stein CBE (5 October 1922 – 10 September 1985) was a Scottish association football player and manager. He became the first manager of a British side to win the European Cup with Celtic in 1967. Stein also guided Celtic to nine successive Scottish League championships between 1966 and 1974.
Tommy Burns, who was held in high regard throughout the game, died on 15 May, 2008, at the age of 51, after two years fighting skin cancer . He made over 350 appearances in midfield for Celtic during the 1970s and '80s. In this time the club won six league championships and four Scottish Cups. He also won eight caps for Scotland and spent five years with Kilmarnock where he began his management career.
Parkhead Picture Palace

Parkhead Picture Place was opened August 1921 at 49 Tollcross rd The three Ps as it was known was initally an upmarket cinema. Its angular tiled entrance portico was set into a 2 storey tenemen and a long tunnel led to the foyer and the 1250 seat auditorium in which there was a small balcony, arcaded aisles and Corinthian columns along the side wall supporting a barrel vaulted ceiling. The 3ps was always reliably profitable, even in the 30s when business declined in the face of tough, super cinema competition and the hall became anything but palatial Latterly it came to be regarded as an unworthy stable mate for the other SCVT/ABC cinemas and was never mentioned in the groups advertising. Acccording to a former projectionist, the 3ps became a real dump the years went by and there was cut throat competition between it and the Greens Picturedrome (Tollcross) Kids were bribed into one with balloons and into the other with a consignment of old comics. The childrens business was important to struggling cinemas and the managers didn\\\'t worry too much about the rating laws in letting them in. Gordon Coombes, an ABC circuit controller,recalls a visited he made to the 3ps one afternoon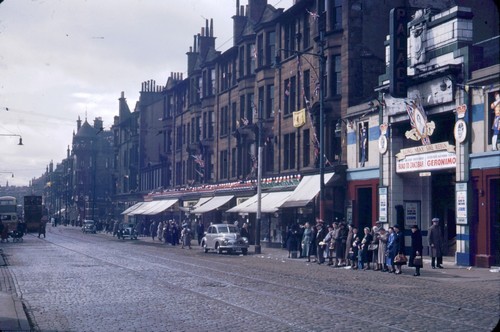 during the school holidays. he found the cinema packed with youngsters of all ages apparently thoroughly enjoying Detective Story This film starred, Kirk Douglas, William Bendix and Eleanor Parker, was one of the first to be X rated when the category was inroduced 1951. Horriied I confronted the manager only to receive his airy assurance Och naebody takes ony notice of certificates in here 3ps was destroyed by fire August 1960.Information from Bruce Peter, from his book 100 years of Glasgows Amazing cinemas .Thanks also to Norrie McNamee
Copyright   Dusashenka's
You can view many more of Dusashenka's cinema photos at
Black Cat Cinema

Black Cat Cinema : Sited at 830 Springfield Road, it was opened in 1921 as a cinema by the eccentric A E Pickard, a well known Glasgow theatre owner. It could hold up to 900 patrons and was later acquired by the BBC. It was used as a scenery workshop and also used as an occasional studio, transmitting 'The White Heather Club'.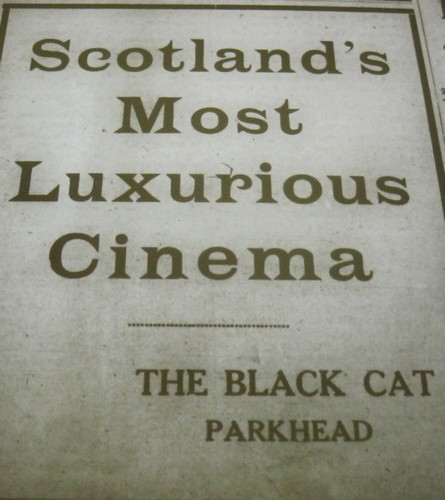 The Granada Picture House

Granada : Sited at 1317 Duke Street opened in 1935 to a design by Lennox & McMath, with a seating capacity of 2400. It remained as a cinema until 1972 then it became a bingo hall. It closed in 1995 and was later demolished. The site was previously that of the Louvre Cinema, which dated from 1914 and could seat just under one thousand patrons.
copyright © Norrie McNamee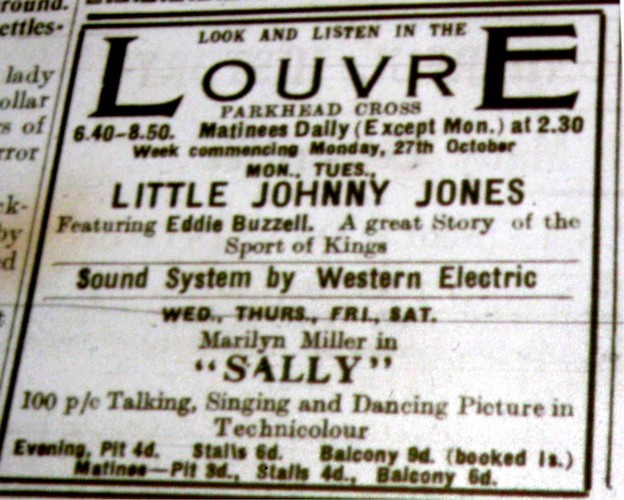 Parkhead Library

. Number 64 = Parkhead Public Library, built in 1906 to a design by J.R. Rhind. The library was officially opened by Councilor James Shaw Maxwell who was one of the early instigators of free libraries for Glasgow.  A Carnegie library is a library built with money donated by  businessman and philanthropist  Andrew Carnegie. On top of the dome is an Angel sculptured by Kellock Brown. The library is curently clossed to the public for renovation work but should be open for the end of 2011. Photo on left is Issue counter at Parkhead Library, Glasgow, in 1907.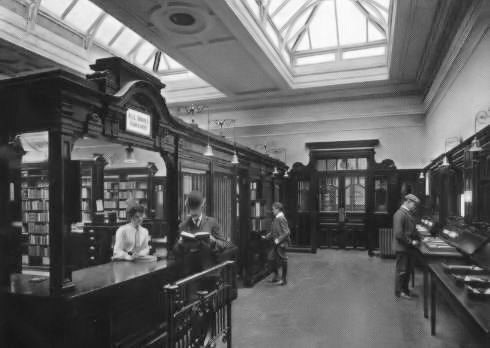 Photo of inside of Parkhead Library by kind permission of Gerald Blaikie
copyright © Gerald Blaikie
http://www.scotcities.com/carnegie/early.htm
LIBRARY INFORMATION
Parkhead Public Library
 GREAT EASTERN ROAD
 Reading rooms opened 6th August 1906
 Number of Volumes in;
 1) Lending Library:-                    about 8,500 when completed
2) Reference Collection:-            416
3) Juvenile Reading Room:-        672
Total:                                       about 9,588 when completed.
a) Number of Daily and Weekly Newspapers in Reading Rooms:-       40
b) Number of Weekly Journals and other Periodicals:-                          40
c) Number of Monthly and Quarterly magazines:-                                 37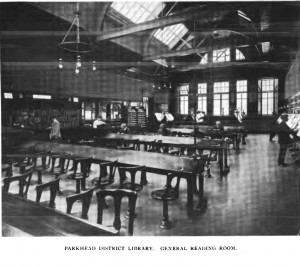 Accommodation for readers within the building;
 1) General Reading Room – Seats:-                    70
2) At Stands:-                                                      68
Sub Total                     138
 3) Ladies Reading Room:-                                              32
4) Boys' Reading Room:-                                               78
5) Girls' Reading Room:-                                                56
Total: 304
DISTRICT LIBRARIAN:-             ALFRED D. GUNNEE
SUB – LIBRARIAN:-                      JESSIE MACLACHLAN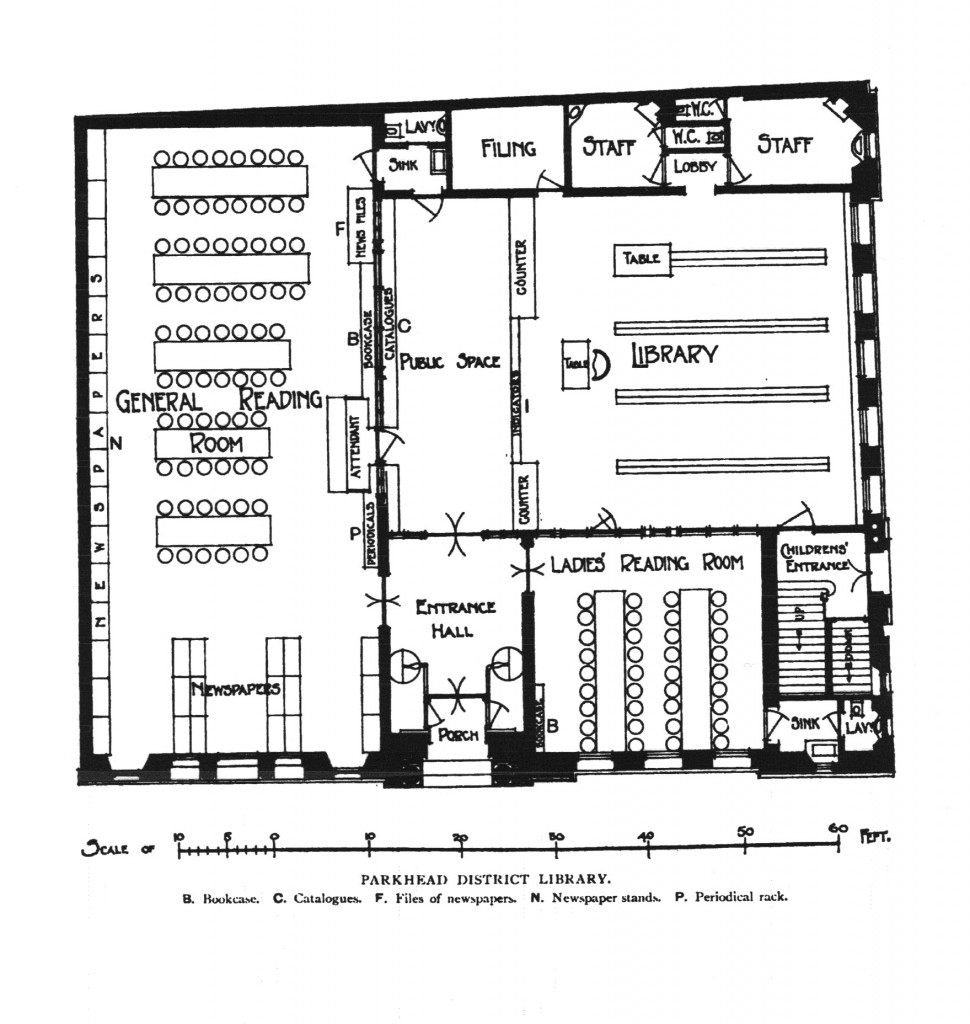 Above is: a) Floorplan Layout;  b)  General Reading Room;  c) External View.
Parkhead Public Baths & Washhouse

. Number 80 Tollcross Road Parkhead Public Baths and Washhouse, built in 1905 to a design by A.B. McDonald, I am sure many of you will remember pushing your mammys pram full of washing to the Parkhead washouse, (the Steamie)
The Salvation Army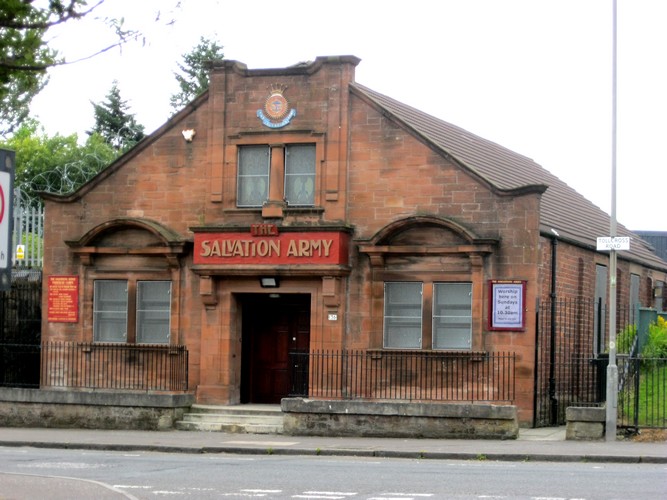 The Salvation Army Parkhead Citadel Corps, No. 59 was opened on Thursday 21 January 1886 by Captain William Palmer (later a Lt. Commissioner) and major Thomas Adams (later Commissioner) when on a tour of the Glasgow District of the Scottish Division.
The weekday meetings were originally held in a shop in Parkhead with the Sunday meetings being held in Parkhead Public Hall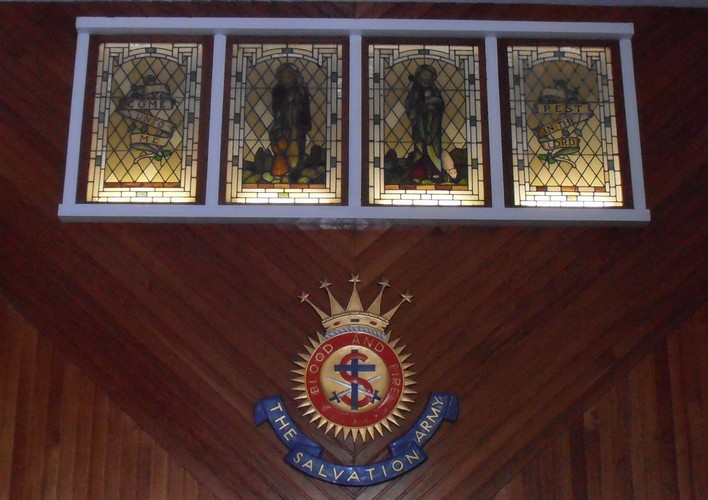 A report in "The War Cry" of February 1886 (A Tour in The Glasgow District) reported "Parkhead was opened on Thursday 21 January 1886.  The Bridgeton Brass Band came over to help us.  Large bills had been posted, advising the people of our entry.  There were great wonderment and excitement.  There were crowds of people on the line of the march, and on our arrival at the Parkhead Public Hall we were unable to get into the main door, owing to the crush of the people who wanted to get in.  However, we got in by a side door.  The people got in were just the right class – men with black faces and working clothes; women without bonnets, and the majority the working class.  God blessed our efforts.  At the close two souls came to the Cross.
Another report in "The War Cry" of March 13 1886 stated; "A wonderful change has taken place here since our first visist, three weeks ago – being the opening.  God has been doing great things, and quite a harvest of souls gathered in.  The barracks which hold about 200 was packed to excess, and many unable to get in.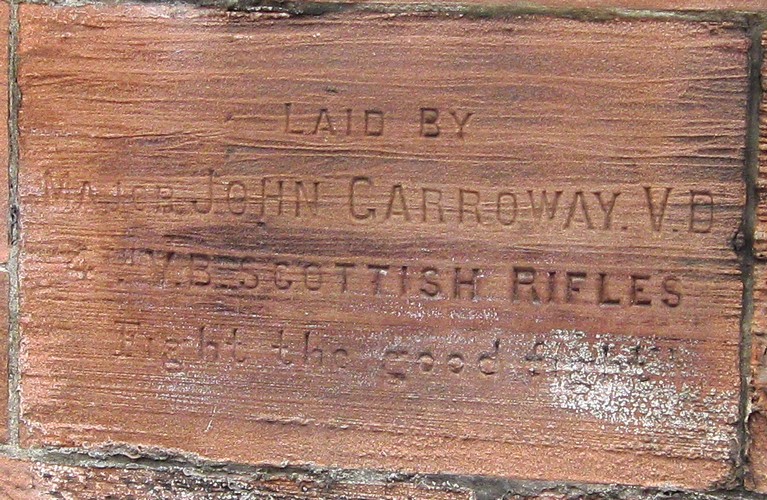 The present day hall was opened in 1908.  Building work commenced in 1907 and three foundation stones were laid on 31 August 1907;
One has the inscription, Laid by Major John Carroway V.D. (Volunteer Decoration) 4th V.B. (Volunteer Battalion) Scottish Rifles.  Fight the Good Fight.
Another has the inscription, Laid by James Templeton Esq. 31 August 1907.  The Foundation of God Standeth Sure.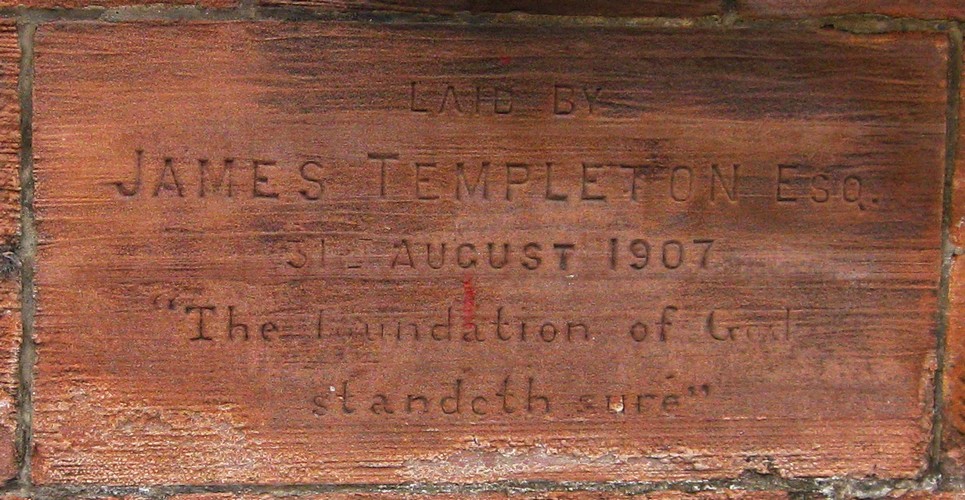 The third stone has the inscription, Laid by The Provincial Commander on behalf of Scotland Province and the E. Glasgow Division.
50th Anniversary:
The souvenir programme for the 50th Anniversary Celebrations shows that the celebrations were held over the weekend of Friday 8th November to Sunday 10th November 1935 with a Great Jubilee Banquet being held on the Friday with Lt. Colonel Pennick (Divisional Commander) and Mrs. Pennick presiding.
A Great Reunion Gathering was held on the Saturday and an Armistice Service held on the Sunday.
71st Anniversary
The 71st anniversary celebration were conducted by Lt. Commissioner & Mrs. W. Grottick (Territorial Commander) and supported by Lt. Colonel & Mrs. R Trainer (Divisional Commander).
Renovations & Reopening:
The hall was closed in 1972 for renovations to the Senior Hall and the building of an extension which was to be the New Young Peoples Hall.
The Dedication and Reopening of the Parkhead Citadel took place on Saturday 17th November 1973 by the Territorial Commander and Mrs. Commissioner John Fewster.
Thanks were expressed to the Local Traders who contributed to the costs of producing the programmes and amongst these local traders was our own Tam McCann's father George who owned and ran a butchers shop on Tollcross Road.
Centenary Celebrations:
On Friday 24th January 1986 a centenary dinner was held in Calton & Parkhead Parish Church, Helenvale Street at 7pm. And tickets were £5 each.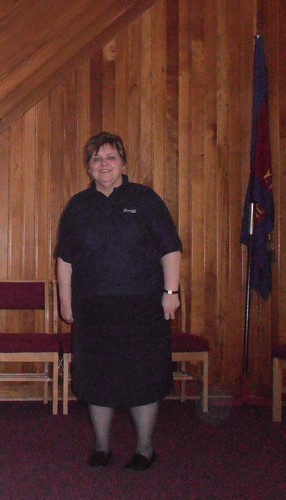 A centenary Festival of Thanksgiving was held on Saturday 25th January 1986 in Shettleston Halls, Wellshot Road with guest leaders Colonel & Mrs. W. Layton.
A Centenary Reunion Weekend was held on 13th & 14th September 1986 and Leader was Major Jack Izzard.
Television presenter Jeremy Paxman visited the hall in 2005 for the BBC's Who Do You Think You Are documentary.  The presenter was moved to tears when he was told that his Great Grandmother, Mabel McKay brought up 11children in a slum in Ardenlea Street, Dalmarnock.
Many thanks to Captain Linda Dunlop for her help and hospitality in gathering this information.
Parkhead Bus Garage Memorial

Bus Garage : Sited at 252 Tollcross Road and opened in 1922 as Parkhead Tram depot. On September 1924 The Duke of York visited the Parkhead Depot .there he inspected the Tramwaymens Guard of Honour and placed a wreath on the memorial erected by Parkhead tramwaymen to their fellow workers who fell in the great war, As many as 4,000 men from Glasgow Corporation Tramways are believed to have served in the armed forces during the First World War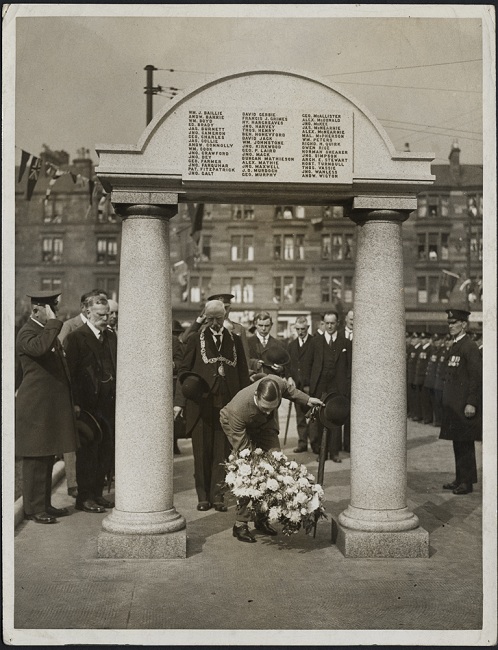 The Duke of York, the future King George VI, laying a wreath at the war memorial at the Parkhead tram depot, early 1920s. The General Manager of Glasgow Corporation Tramways, James Dalrymple, is standing just to the left of the memorial. The Lord Provost is framed between the columns of the memorial. In the background, women are watching the ceremony from their tenement windows on Tollcross Road.
 Copyright © Culture and Sport Glasgow (Museums).
.
Reproduced by kind permission of Culture and Sport Glasgow (Museums)
The Duke had a full schedule on his visit to Glasgow.  Glasgow Corporation Transport opened their recreation ground at Helenvale Street which contained a bowling green and football pitch on 2nd September 1924.  The Duke of York (later King George VI) performed the opening ceremony, and kicked off a match between Glasgow Rangers and Partick Thistle.
The Score was Partick Thistle 1 (Collins) Rangers 6 (Archibald 2, Henderson 4).
The teams were;
Partick Thistle: – Ramsay, Paton, Crichton, Gibson, Lambie, McMullen, Ness, Grove, Collins, Hair, Salisbury.
Rangers: – Robb, Manderson, McCandless, Meiklejohn, Dixon, Kirkwood, Archibald, Cunningham, Henderson, Cairns, Morton.
Referee was A. A. Jackson.
Attendance: – 8,000
PARKHEAD FOOTBALL CLUB:
A postcard to a Mr. J McInnes for his attendance at Helenslea Park.  Posted 1919.  Were you related to him or know of him?
Whitby Street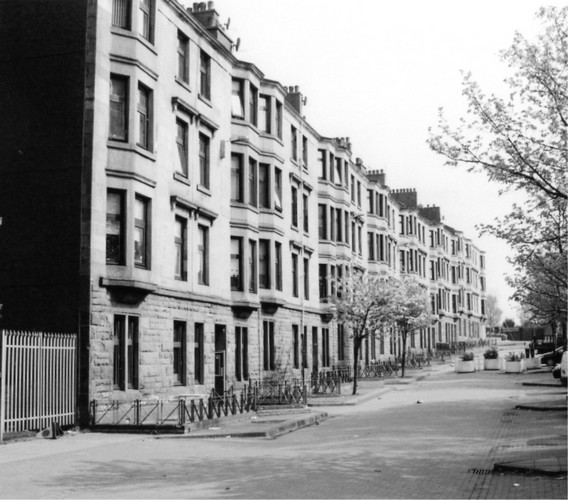 Whitby Street at one time was called Winston Street after Winston Churchill, it was also the site of Parkhead Stadium Station.
Parkhead Stadium Station was famously visited once by George V and Queen Mary on their way to Beardmore's Steelworks in Parkhead. The station closed in the 1960's. The Railway then became Parkhead's playground for the youths that stayed in the area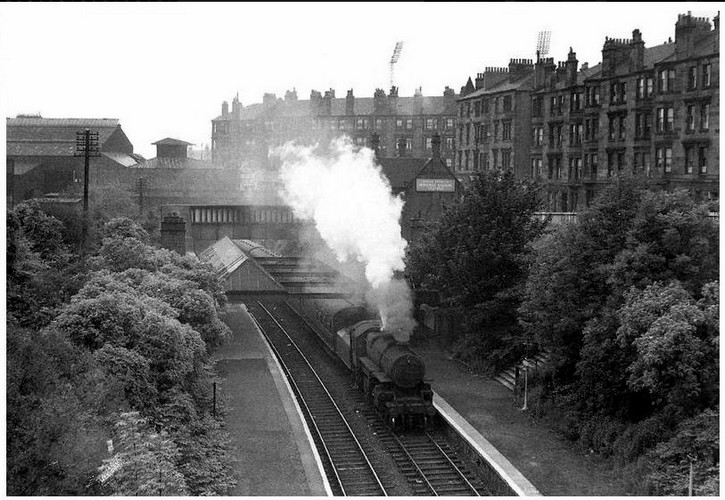 A G Barr Ltd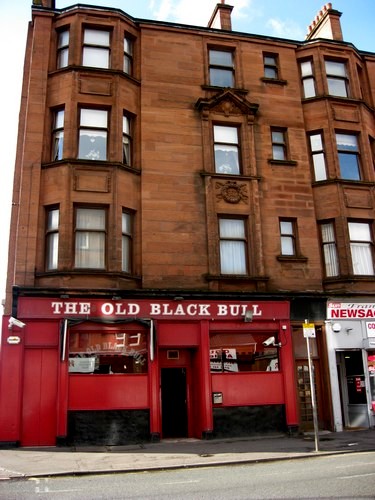 Aerated Water Factory : Factory sited at 1310 Gallowgate, and dated from 1889, the premises of A G Barr Ltd. The tenement adjacent to the works dates from 1904 and has the Black Bull public house on the ground floor. Andrew Greig Barr (1872-1903) was the son of the founder of Barr's Irn Bru , Robert Barr.  The business was originally started in Falkirk in 1875.In 1887 Robert's eldest son Robert Fulton Barr started  a second Barr Soft Drinks business in Parkhead.  This was taken over in 1892 by Andrew Greig Barr.  At this time he would have been 20 years old! Andrew had been educated at the High School in Falkirk and then Daniel Stewart's College in Edinburgh. He had started a career in banking but his brother's company in Parkhead was so successful he resigned from the bank and joined the company.  The business flourished under him and he introduced 'Iron-Brew' in 1901.  He also instigated the limited company of AG Barr & Co Ltd which took place in 1904.Andrew, however did not live long enough to see all his plans put in place.  He married Margaret Gibb in Dollar in 1903 and died weeks later.   He was only 31. Both Barr businesses, Robert Barr, Falkirk and A.G. Barr & Co.,Glasgow jointly launched their own original recipe 'IRON BREW' soft drink. Adam Brown, a famous highland athlete from Shotts, featured in the label design.
Reproduced by kind permission of A.G.Barr p.l.c.'
http://www.agbarr.co.uk/ces_general.nsf/wpg/welcome_page!opendocument
Parkhead Public School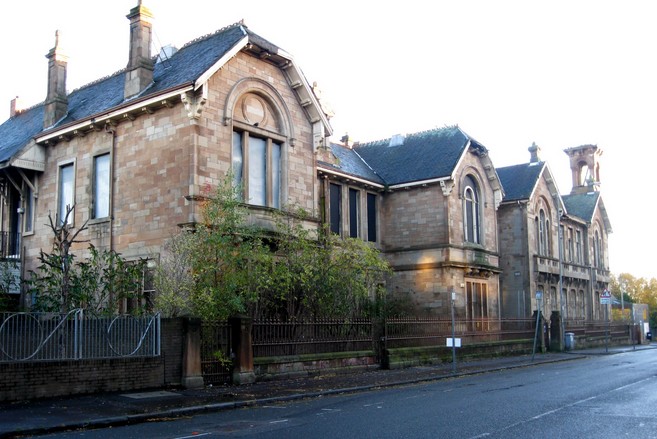 Parkhead Public School : Sited at 135 Westmuir Street,Was built in 1878 to a design by Hugh MacLure.The School is the oldest in Parkhead.Many parkhead people have a warm regard for their old school, and its teachers. In 1924 a favourite among the pupils was Miss Sybil Ferguson who was appointed shortly after the completion of her training in Glasgow U F Church Normal and who has served the school faithfully ever since, Sybils father was the Late Mr Matthew Ferguson who was a well known and respected member of the Parkhead community.The school closed in 1963 and was later used as a careers office, the building remains derelict.
The Forge

Parkhead Forge was established around 1837 by Reoch Brothers & Company and bought in 1841 by Robert Napier to make forgings and iron plates for his shipyard.  William Beardmore later became a partner around 1860 whose son, William, became sole partner in 1886 and became William Beardmore & Company.
Parkhead Forge was the largest steelworks in Scotland and employed over 20,000 people in its peak.  The Forge specialised in the manufacture of armaments and armour plate for warships.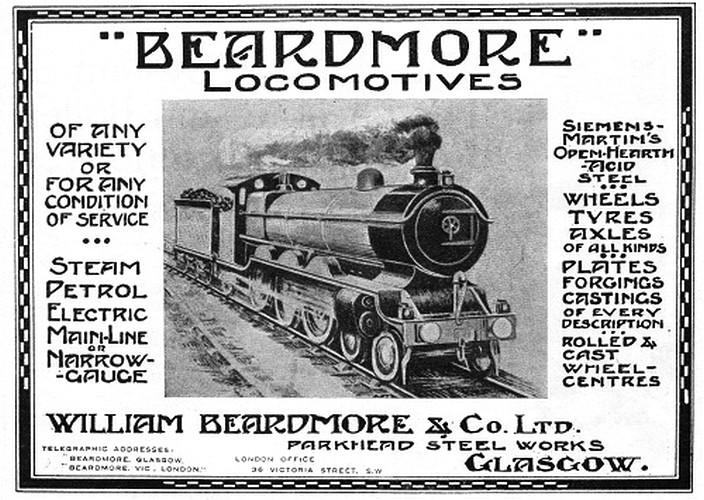 In 1906 Ernest Shackleton, the Antartic explorer, entered employment as Secretary of the Technical Committee at Parkhead Forge Engineering Works.  William Beardmore funded Ernest Shackleton's Nimrod Antartic expedition in 1907 to the tune of £7,000 (worth half a million pounds in today's money).  As a result, William Beardmore's name is immortalised in the huge Beardmore Glacier, one of the world's largest glaciers.  Shackleton's sledges were also made at Parkhead Forge.Parkhead Forge closed in 1976 and in 1988 the Forge Shopping and Retail Centre was built. Beardmore   Advert © http://www.gracesguide.co.uk
Quarrybrae School

Quarrybrae School stands at number 153 Crail Street. It was built in 1904 to a design by McWhannell & Rodgerson. Note the janitors house on site.Across the road was the Model Lodging House, built in 1927 with accommodation for 103 persons. Closed as a hostel in 1946, it later became a community centre. Below is a class from 1934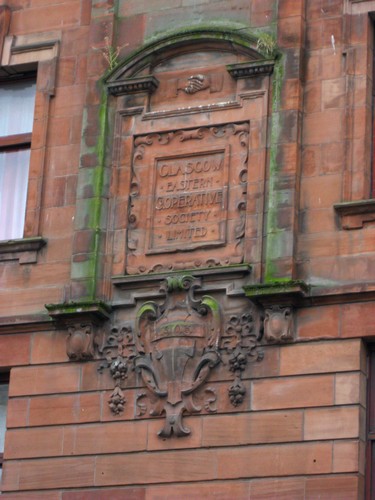 Hundreds of people packed the footpaths on both sides of Westmuir Street on Tuesday morning to watch the opening of Glasgow Eastern Co- operative Societys new Parkhead grocery and dairy department. Bailie William M Lee of Calton preformed the opening ceremony. Bailie Lee said the people of Parkhead will have a Co-operative service second to none in the city of Glasgow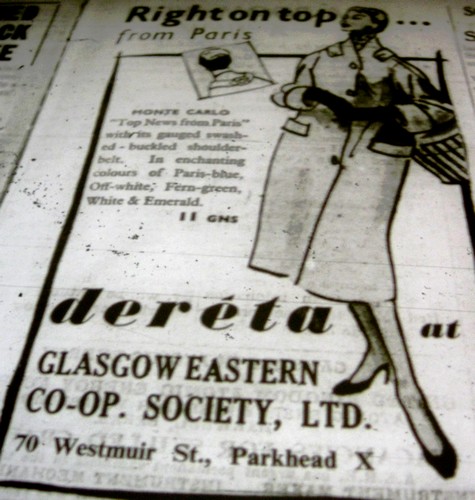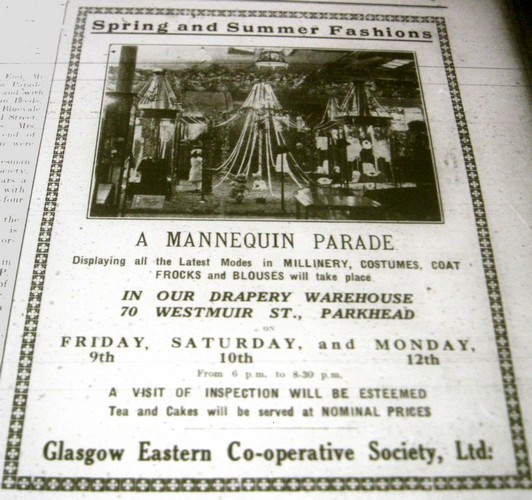 St Michael's Roman Catholic Church

St Michael's Roman Catholic Church at 1350 Gallowgate was formerly sited on Salamanca Street in 1900 where the building was only meant to be temporary, but  it took another 60 years before the New Church that was designed by Alexander McInally was built . The church was opened  by Archbishop Scanlon in 1961 and the first mass was held in 1969. The current priest is Father William McMahon (1999).
An interesting newspaper article from 1923 states that a grand carnival was held at Parkhead Cross with the object of raising funds for the building of the new Catholic Church. On the committee for this undertaking were:
Mr John Hannigan – President
Mr Charles Shaw – Convener
Mr Robert Hamilton – Secretary
Mr Daniel Gardiner – Treasurer
The entertainments are on the good old fashion lines, with various forms of roundabouts and swings. There is hoopla too, and Aunt Sallies and all other games of skill and chance.
Belvidere Hospital
Reproduced with kind permission of Mitchell Library

The estate of Belvidere near the north banks of the Clyde about two and a half miles east of the city was acquired and a fever hospital opened there in 1829.  By 1832 it had 220 beds and in the 1870's a separate smallpox hospital was added with 150 beds—a clear indication of the continuing presence of this dreaded disease.  Belvidere treated a wide range of infectious diseases, from typhus to smallpox and diphtheria, but much of its work was treating the then common childhood diseases of scarlet fever, measles and whooping cough.  In 1887 the main hospital had been increased to 390 beds.  Belvidere was described at that time as 'the largest fever hospital outside of London'. When the housing estates of Newbank and Lilybank were built, the people wanted Belvidere demolished as they thought an infectious and contagious disease hospital should not be situated within close proximity of houses.
Newlands Primary School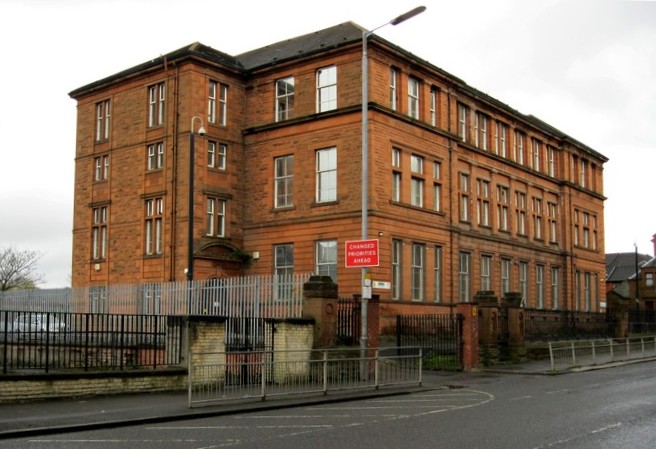 Newlands Primary School : Built in 1895 to a design by Andrew Balfour.  Near the site of  Newlands school, was one of the finest wells in the whole neighbourhood called 'Carrick's Well'. When digging for the foundations for the school the workmen struck the source of this well , and it was only after great trouble and considerable cost  they overcame the problem of stemming t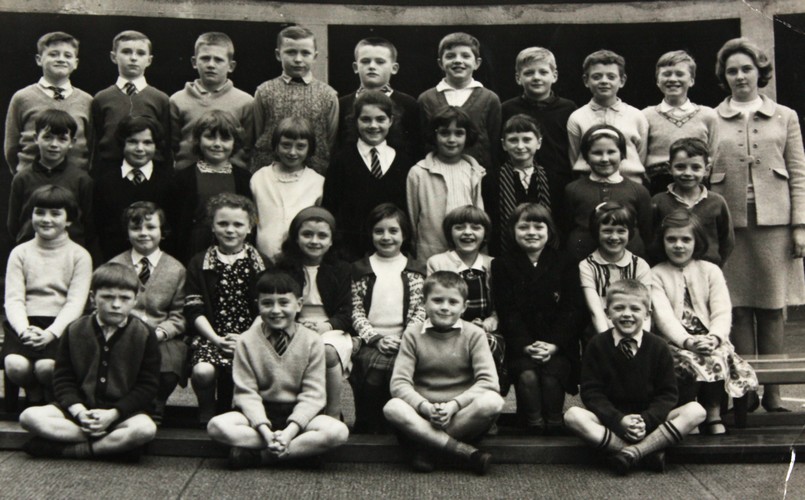 he flow of water into the foundations.
In 1952 the school colours were introduced into Newlands School The colours were Gold, Red , and Blue A school badge has also been designed containing the three colours and bearing a shield with the letters N,S  . Although the headmaster Mr Thomas McNaughton is delighted to see so many children wearing the uniform , He emphasised that wearing the uniform will not be compulsory.  Class photo of 1963