Campbells of Parkhead

Mr. Sam Campbell, the Grandson of Alexander Campbell who set up this family business, has very kindly shared his memories of his family history and his Grandfather's business with us, and now all who have an interest in the history of Parkhead, and the visitors to this site.
We are extremely grateful to Sam for his generosity and willingness to share this information and cannot thank him enough for his kindness.
All images are Copyright © Sam Campbell.
All images reproduced by kind permision of Sam Campbell

Alexander Campbell was one of nine children born  to Alexander Campbell and Jeanie McCreadie.  He was born on 14 August 1893 and started off his career as a Coal Miner and then became a Traveller in the Drapery Trade.  His business started circa 1920's and was incorporated in 1930 and continued into the 1980's  The business blossomed and had branches in Dervaig Street (formerly Gray Street), Crown Street, Ayr, Prestwick, Largs and Kilmarnock as well as at 1 – 41 Tollcross Road (previously Great Eastern Road) in Parkhead. The shops stretched from the junction of Great Eastern Road and Westmuir Street down to almost the Parkhead Picture Palace Cinema.
The premises at the junction of Great Eastern Road and Westmuir Street were sold to a bank.  The houses above the bank were used as alteration rooms for the business.
Circa 1936 some of the properties were converted from housing to a three storey shop and it was in here fashion shows were held to promote the latest products and fashions.
The business celebrated its 50th Birthday in 1981
This is an early photograph of the business circa 1925 at 653 Great Eastern Road (now Tollcross Road).
Pictured in the photo is Alexander Campbell on the left with his wife on the extreme right and two female staff in the centre.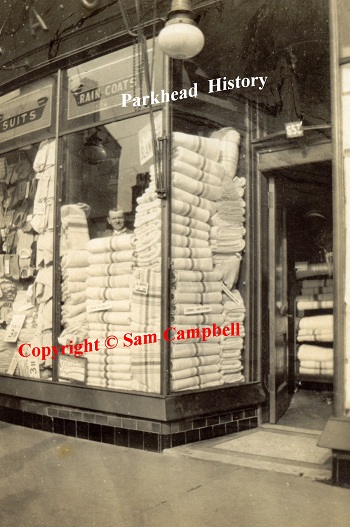 Another early photograph of the business again circa 1925 this time showing a just barely visible Alexander Campbell behind a blanket display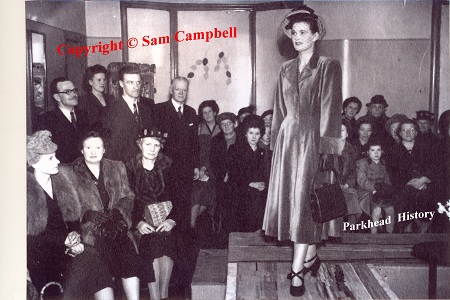 Circa 1950:  Fashion show held in Campbells of Parkhead Store in the converted upper floors of 41 Tollcross Road.
On the extreme left, standing are Alex Campbell, Robert Campbell and Alexander Campbell.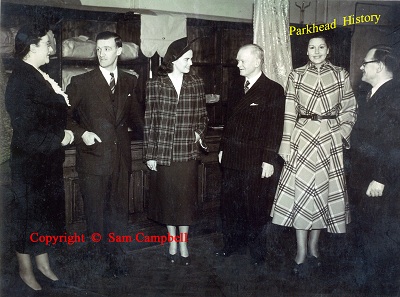 After the show conference.  pictured are, Left to Right:  Staff Member, Robert Campbell, Model, Alexander Campbell, Model, and Alex Campbell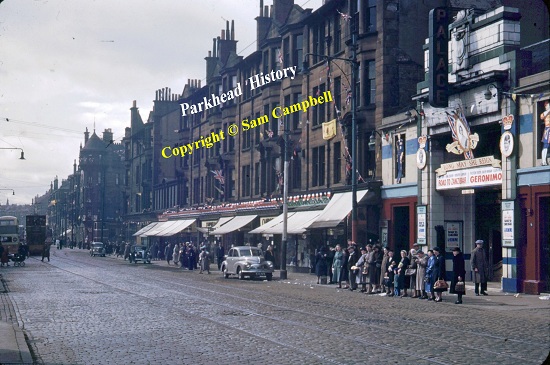 Circa 1963:  Campbells of Parkhead shops bedecked for the commemoration of the 10th anniversary of the Coronation.  On the right of the picture is the Parkhead Picture Palace or 3P's as it was known locally.  Films on show are Geronimo (released 1962) and Road to Zanzibar.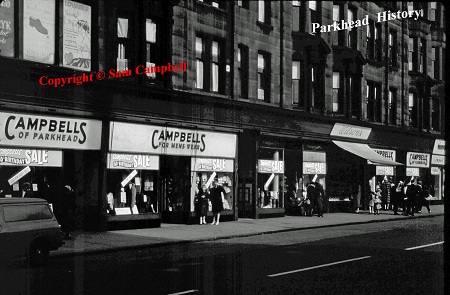 Circa 1980:  Campbells of Parkhead Stores along Tollcross Road, a familiar sight to residentsa of Parkhead and the surrounding areas and travellers travelling into town.  Posters in the windows show they were running a 50th Birthday Sale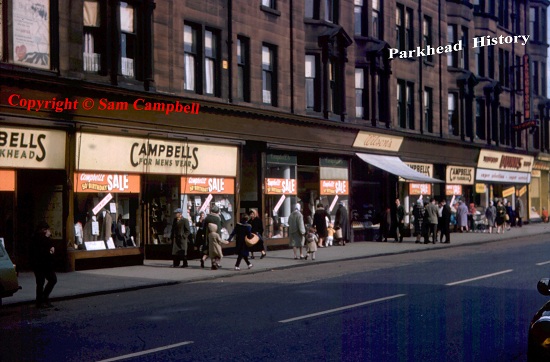 Circa 1980.  Campbells stores on Tollcross Road with 50th Birthday Sale posters displayed.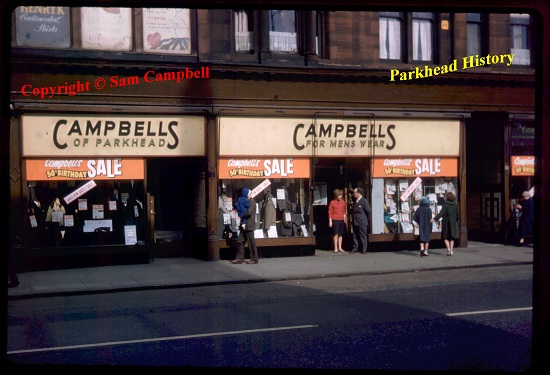 Another circa 1980 photo of the stores on Tollcross Road.  Having a break in the sunshine is Mr. Alex Campbell with a member of staff.