EASTEND BOY WHO FOUNDED INDUSTRY

Dr. James Young's Remarkable Career

By JAMES BAIRD F.S.A (Scot.), Dennistoun
Dr. James Young who was the founder of the mineral oil industry in Scotland, which led to the petroleum concerns in America and elsewhere, was the son of a loner in Kirk Street, Calton, and spent his early fays in the east end of Glasgow.  Born on the 14th July 1811, after learning the trade of cabinet making he attended chemistry classes at the Andersonian College in George Street.  Two of his fellow students here were David Livingstone, after the famous African Explorer, and Thomas Graham who became the Master of the Mint.  It is to Young that we owe the statues of Livingstone and Graham in George Square, but strange to say there is no public monument to himself, although he is one of the founders of Glasgow's prosperity.  Young was a great support to Livingstone financially in connection with his explorations, and on one occasion sent out an expedition to Africa to find him.
Made His Name
It was as a chemist that James Young made his name, as not long after he had started business he discovered a method of distilling oil from shale, which led to the manufacture of paraffin oil and the sale of paraffin on a large scale.
This brought him fame and fortune, and in 1867 he purchased the estate of Kelly, near Inverkip, and here in 1875 he entertained for a fortnight the two faithful servants of Livingstone, Susi and Chumi, who brought their masters body from Africa to this country for burial.  While at Kelly they erected in the grounds of the estate a facsimile of the hut in which their master died.
Young founded the Chair of Chemistry at the Andersonian (now Royal Technical) College and was elected a fellow of the Royal Society and an LL.D. of Glasgow University.  He died on 13th May, 1883.
It is of interest to remember that in the British Isles that it is estimated there are four hundred million tons of oil awaiting discovery, enough to last for about one hundred years.
Thus when the supply of coal runs out there will be sufficient oil to supply the needs of the country for a few generations thereafter.
Liquid Power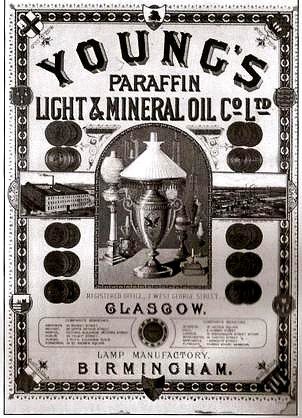 From the crude petroleum is yielded at least two hundred kinds of products, such as naphtha, lubricating oils, and principally fuels for engines of all kinds.  It is the motive power of the incalculable number of motor vehicles, as well as vessels from motor boats to great liners.
This is the huge industry James Young was the pioneer of in this country and worldwide.
Glasgow Eastern Standard 1933